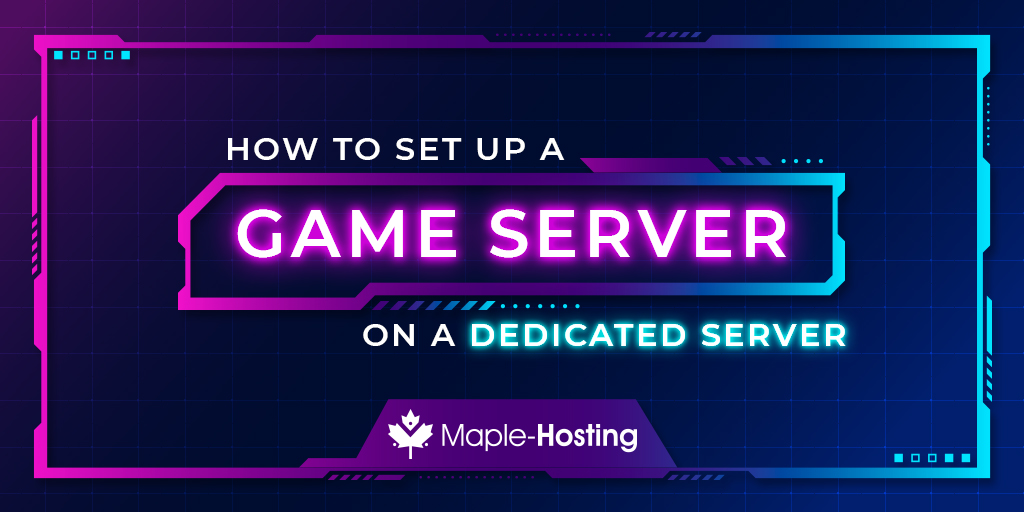 The number of Americans who play video games skyrocketed over the last two years. With the enjoyment of online multiplayer games comes the annoyances of lags, glitches, and delays. Would you like a better playing experience?
A dedicated game server could be what you're looking for. A private server puts you in control.
Learn more about setting up a dedicated server as a gaming server and start getting more from your gaming.
What Is a Dedicated Server?
A dedicated server doesn't share resources with other websites or applications. It gives you more power and flexibility. You can run a private server on your local area network (LAN) or use remote hosting.
Why Use a Dedicated Server for Your Game Server?
A dedicated game server gives you more stability, customization, and control than you get with external servers. Public multiplayer games use client servers or peer-to-peer (P2P) hosting. A dedicated private server has advantages over both of these options.
Client Server Model
Game publishers or console manufacturers usually run client servers. The main host directly manages connections for all players. Individual players can't control all aspects of game configuration.
Client servers may be good enough for many recreational gamers. Avid gamers usually feel like they don't have enough control over the gaming experience. You're dependent on the main host's servers if problems come up.
P2P Hosting Model
P2P uses one player acting as host to facilitate the connections of the other players. The player who started the game or has the lowest latency is usually the host.
With this model, you depend on the host's connection. The host player's computer needs enough processing power, bandwidth, and storage capacity. The host also needs a strong internet connection.
If the host player's device or internet connection isn't good enough, all the players will have lags and glitches. The game could even crash.
Dedicated Server
A dedicated server gives you total control over your gaming experience. You get better performance with more reliability and stability. You have less lag and fewer dropped connections.
If you have a problem with your gaming machine and have to close the game or reboot, everyone else stays connected to the server. They can keep playing while you get back online.
With a private server, you can choose your equipment to meet your specifications. You can set higher security protocols.
Find Hardware for Your Server
Setting up a gaming server starts with the right hardware. Using a separate PC for your dedicated game server frees up resources on your gaming PC. You'll get better stability and reliability from both systems.
For most of the latest 32-player multiplayer games, you'll need at least:
CPU with at least 2.5GHZ clock speed
8GB of RAM (but 16GB or more is better)
1TB solid state drive (SSD)
64-bit Windows or Linux OS, depending on the games you'll be running
The more players you plan to have on your game server, the more powerful components you'll need. Be sure to check the server requirements for the game(s) you want to play. If you're using a hosted server, a representative from the hosting service can help you find the right dedicated server for your needs.
How to Set Up a Dedicated Server with Steam
Many of the most popular multiplayer games use Steam architecture. Steam offers a centralized process for setting up dedicated game servers.
Check the Dedicated Servers List
First, check the list of dedicated servers on Steam's developer wiki. The list says which games are supported.
The list also tells you if you can get the necessary software from SteamCMD or the Steam Client. SteamCMD is a command-line-only version of Steam. It's available as a free download.
The dedicated servers list has other useful information like:
If a game allows anonymous login
If you have to buy the game to get the dedicated server software
Links to step-by-step directions for setting up a server for some of the most popular games
To host a dedicated gaming server yourself, you'll need to change your network and/or router setup. The best settings depend on your system.
Setup with SteamCMD
SteamCMD lets you install and set up a dedicated game server without installing the full Steam Client. To use it, you need to know the Steam App ID number of the game. If a game has dedicated server software without its own app ID, you can check the game's installation directory, website, or wiki.
Then you can use the SteamCMD-GUI tool to easily establish and run servers for many games. You'll need to install the SteamCMD program separately first. The SteamCMD-GUI tool lets you set up and run servers for current and old-school games.
How to Set Up a Dedicated Server for Non-Steam Games
Some popular games don't use Steam as the basis for their dedicated servers. Minecraft is probably the most popular example of a game with its own server software. Other games like Warframe also have their own setup processes.
To setup a dedicated gaming server for one of these games, you'll need to download the software from the official game site. Minecraft is one game that will give you the option of Windows 10 or Java. Be sure to download the right version because they don't support cross-play.
You can often find detailed instructions on the game's wiki.
Using a Hosting Service for Your Dedicated Game Server
You can set up a private server yourself. It takes some time and a working knowledge of computing and networking, though.
Running server software on your computer without knowing what you're doing can open your system to external attacks. You need to monitor the server daily. Network configurations need continual maintenance.
Managed dedicated server hosting is a simpler alternative. A professional provider makes setting up your gaming server easy, fast, and secure. Fully-managed support coverage means that your dedicated server is properly secured, updated, and optimized.
Start Enjoying a Dedicated Game Server
Maple-Hosting has been providing exceptional hosting experiences since 2008. Our industry-leading uptime SLA guarantees monetary compensation for even a minute of downtime. You'll notice the difference with our high-performance network.
Maple-Hosting offers a range of dedicated servers to meet your needs. Contact us today and take your gaming to the next level.
Award-Winning Dedicated Servers
Please select the dedicated server type that best matches your needs:
NETHERLANDS DEDICATED SERVERS All of our dedicated servers are hosted in The Netherlands. Build the right dedicated server for your needs.


View All Servers ›
UNMETERED DEDICATED SERVERS Designed for high-bandwidth use cases. Experience truly unmetered premium bandwidth from 100 Mbps to 20+ Gbps.


View Unmetered Servers ›
MANAGED DEDICATED SERVERS Free up your time and focus on your business. Our 24x7 managed support will set up, secure, and optimize your server.


View Managed Servers ›