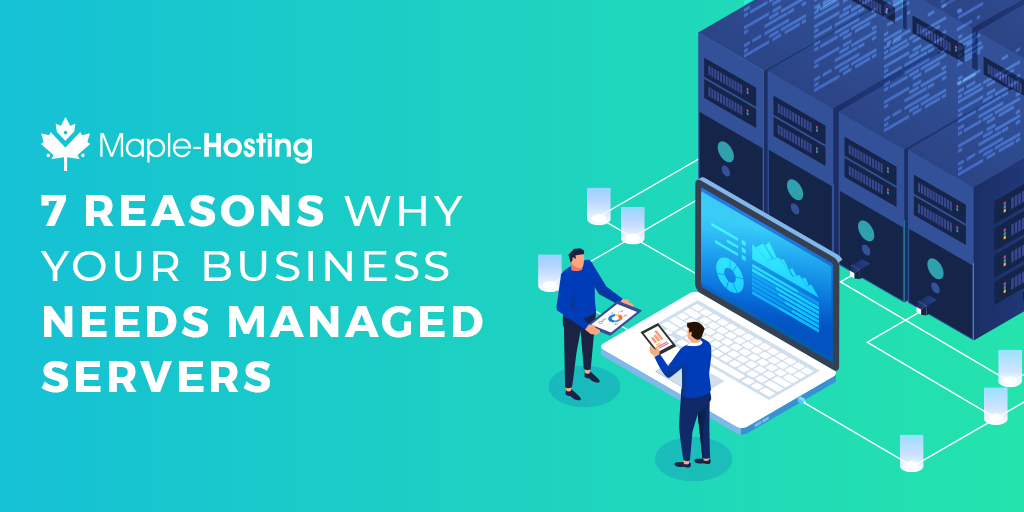 Keeping your web server up to date is important but there are a lot of things to stay on top of. For example, updating PHP can help with security and performance but do you know how to make that change?
Running a web server can be challenging for anyone who isn't an expert. Let's look at how a managed server can help make your website faster, more secure, and a better experience for your site's visitors.
What Are Fully Managed Servers?
When a server is "fully managed" it means the hosting company looks after many of the technical parts of setting up and maintaining the server, such as:
Operating system patches
Security updates
Installation of some types of software
Migrating websites from another server or host
With unmanaged hosting, these things are all your responsibility. If you have in-house IT staff to handle this for you, that might work. But if you don't have an expert on hand and don't want to have to learn it all yourself, Maple-Hosting will take care of it with our fully managed hosting service.
Having us look after the technical stuff offers you several benefits.
Setup and Configuration
There's a lot of work involved in setting up a new server. Whether you're starting from scratch or migrating your website from another server, the new server needs to be configured properly before you go live.
With an unmanaged server, you're starting from square one. It would be like buying a new PC with no software other than the operating system. You're not going to be able to do much with it until you install all the applications you need, configure everything the way you want it, and download all the latest security updates. This can take many hours to do.
With our fully managed plans, Maple-Hosting looks after the initial setup and configuration. You'll be able to start working on your websites right away, without having to do all the prep work.
Server Maintenance and Updates are Taken Care Of
Your desktop or laptop PC gets updated on a regular basis. These updates fix security flaws, add features, and improve performance. Your web server needs the same kind of maintenance but while most PCs install these updates automatically and need little or no specialized knowledge, web server updates need to be installed manually and usually need some technical skills.
Maple-Hosting's fully managed hosting includes software support and upgrades for the core system software (the operating system, web server software, PHP, MySQL, and various other components). We'll help you with any problems and can upgrade these components to their latest versions for you.
Security Hardening
It seems like you read stories in the news every week about one company or another getting hacked. Ensuring your server is secure against these attacks is critical for anyone, but it's even more important if your website collects customer data.
Learning how to secure a server is hard enough in the first place but keeping up with the constant changes can be a full-time job. With a fully managed server, the experts take care of it for you.
With Maple-Hosting's fully managed hosting packages, we use our own recipe to keep your server safe and secure. We can also look after installing SSL certificates on your server, which can be a challenging task.
Managed Technical Support
Any decent hosting company provides technical support for both managed and unmanaged servers. But with an unmanaged server, the support won't cover things like configuration problems or software conflicts that could be causing issues with your website. Managing the server configuration is your responsibility.
With fully managed hosting, you'll get technical support on a much wider range of issues. Maple-Hosting's fully managed plans include support for common issues so our experienced support staff will be able to sort out common problems for you.
On top of getting more thorough technical support with a fully managed server, you also get the benefit of ongoing training for the support staff. If you're managing your own server, you or your IT staff need to invest time (and likely money) in keeping up-to-date with the latest technology.
With managed hosting, it's the hosting company's responsibility to keep their support staff up-to-date. Those staff will also come across a wider range of issues when dealing with different clients so you'll benefit from something they might learn when solving another client's problem.
Better Uptime When Fully-Managed
"Uptime" is the term used in the hosting business to indicate the percentage of time a hosting company guarantees their server to be operating and available to your site's visitors. If the uptime guarantee is 99.99%, that means that they guarantee the server won't be down more than 0.01% of the time or roughly 4.5 minutes in a month.
That's only for issues under the hosting company's control, however. If you make a change to your server that makes your site unavailable, that's not covered under an uptime guarantee. Having someone who knows what they're doing take care of the technical stuff helps ensure the maximum uptime.
Maple-Hosting offers a 100% uptime guarantee. We guarantee that we will do everything in our power to ensure that you won't have any downtime due to covered issues under our control. With our fully managed hosting, a lot more of the potential issues will be our responsibility.
Website Migration from Other Servers
This item will only be a benefit if you're moving your website from another cPanel server but if that's the case, it can be a big help. If you're migrating to a new server, chances are your website is already getting traffic. And it might be generating revenue for your business as well.
In that case, any downtime during the move is costing you money. With a managed server, your sites are migrated over to your new server in a way that minimizes downtime while making sure everything gets configured properly. Once your new server goes live, it will be seamless to your visitors (aside from the better performance they'll see).
Maple-Hosting's fully managed hosting includes website transfer and migration for up to 20 cPanel accounts from your old cPanel server. You can relax while we take care of the move.
Save Time and Money With a Managed Server
You'll pay a little more for fully managed compared to unmanaged hosting but when you consider the amount of time you would have to spend to do all the work yourself, you're actually saving money.
Time is money in business and every minute you spend maintaining your server is a minute you're not doing your actual work. Even if you calculate your time at minimum wage, it would only take a couple of hours to be in the red compared to Maple-Hosting's managed service add-on.
This is worth considering even if you do have your own in-house IT staff. There's likely more valuable work they could be doing when you consider how affordable our fully-managed service is.
Do You Just Want It To Work?
A web server is comparable to a car. Some people want to get their hands dirty under the hood and they have the skills to do so. But most people just want a well-performing, safe, and efficient vehicle that always starts when they get behind the wheel.
A web server is similar. If you enjoy getting under the hood and tweaking things, an unmanaged server might be the right choice. But if you want your server to be working and available when a customer visits your website without having to get your hands dirty, let Maple-Hosting look after the technical stuff with our fully managed servers.
Our fully-managed support is available on our VPS hosting and our dedicated servers so we've got you covered no matter what your needs. If you're not sure what kind of server you should be looking at, get in touch with us and we'll help you get started.
Award-Winning Dedicated Servers
Please select the dedicated server type that best matches your needs:
NETHERLANDS DEDICATED SERVERS All of our dedicated servers are hosted in The Netherlands. Build the right dedicated server for your needs.


View All Servers ›
UNMETERED DEDICATED SERVERS Designed for high-bandwidth use cases. Experience truly unmetered premium bandwidth from 100 Mbps to 20+ Gbps.


View Unmetered Servers ›
MANAGED DEDICATED SERVERS Free up your time and focus on your business. Our 24x7 managed support will set up, secure, and optimize your server.


View Managed Servers ›