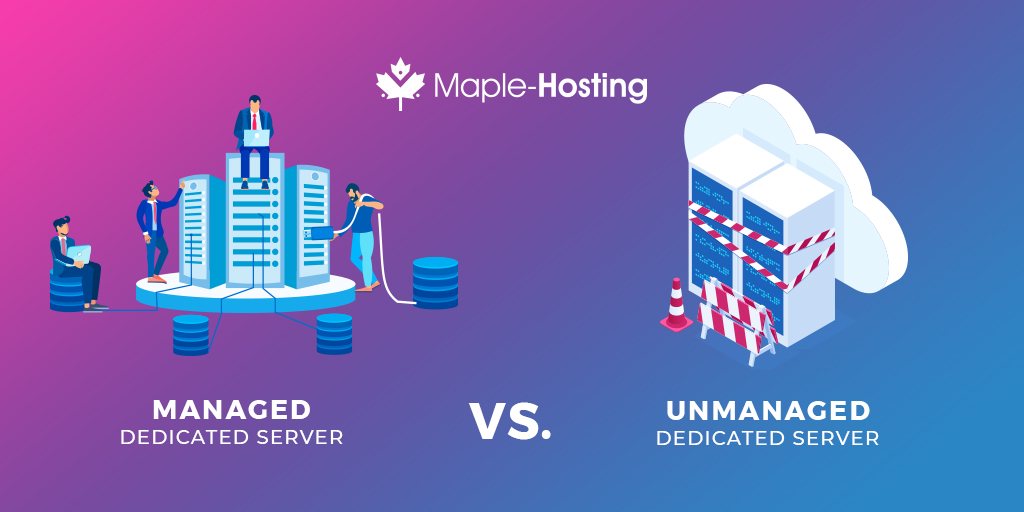 Shopping for a new Dedicated Server? That means you'll need to make the choice between managed vs unmanaged hosting.
In this article, we'll discuss the pros & cons of each option and break down the many benefits of managed hosting.
Nowadays, most websites begin their digital life on a shared hosting account. Most website owners will not switch to a dedicated server before they are certain that it's required for them.
The terms "unmanaged" or "managed" (sometimes referred to as "fully-managed") are only relevant when talking about dedicated servers or VPS Hosting.
Shared hosting is always considered fully-managed due to the fact that multiple clients are using the same server, and none of them have root access and so the host actively manages the server for them.
Read our guide to Shared Hosting vs VPS vs Dedicated Servers to learn more about the different hosting types
What's Unmanaged Support?
Let's start with a simple explanation about Unmanaged Support.
Unmanaged support means that the support you get from your hosting company will only cover basic support issues related to the server's hardware or network. Unmanaged support is the default support type included with most Dedicated Servers and VPS Hosting.
With most dedicated servers, you will receive full root access which means you have full control and power over your server.
However, with great power, comes great responsibility. With any server, the software running on it must be properly updated, secured, and optimized on a regular basis.
If your server is unmanaged, all of these responsibilities are yours. If you don't properly execute them, your server may perform poorly or be hacked.
If you know that you have the time and experience to manage your server yourself on a regular basis and handle all of its security, optimization, troubleshooting, and maintenance – unmanaged support can work for you.
Alternatively, you can outsource the server management to a 3rd party – in which case your server will still be managed – but just not by your hosting provider.
What's Managed Support?
Now that we understand unmanaged Support, let's talk about Managed Support.
Managed support means that the support you get from your hosting company will cover an extensive list of management tasks that your hosting provider can take care of for you upon request. Managed Support is recommended for users who don't wish to or can't manage their servers themselves.
Different hosting companies include different tasks and responsibilities with their Managed Support plans.
Generally speaking, Managed Dedicated Servers include support coverage for tasks related to:
Setting Up Your Server
Securing Your Server
Optimizing Your Server's Performance
Performing Software & Kernel Upgrades
Setting Up Backups & Restores
Troubleshooting Common Issues
Performing Website Migrations From Other Servers
How To Choose Between Managed & Unmanaged Support?
Here are a few important things to consider when choosing between unmanaged and managed options.
Cost
Unmanaged servers cost less than managed servers upfront.
The cost of adding Fully-Managed Support to a server usually ranges from $30 – $80 per month.
That being said, getting a managed dedicated server may be the right move if your alternative is paying a 3rd party company or individual to manage your server for you.
Time & Knowledge
Managing a server takes a certain level of experience and knowledge, as well as quite a bit of time.
If you have the time and knowledge needed to manage a server, you should be fine getting an unmanaged server. However, if you prefer to have someone else manage your server for you – get a managed server.
Control Panel
You might be thinking "If I have cPanel/WHM control panel, I'll just use that to secure, optimize, etc".
Many website owners make the mistake of thinking that a control panel is a valid replacement to a server administrator.
While a control panel can help simplify the management tasks, at the end of the day, the question of unmanaged hosting vs fully-managed hosting is really a question of having fully-managed support when you need it vs being on your own and having to figure issues and problems out yourself.
Security
Over 30,000 servers are hacked every day and the average time it takes to detect an intrusion is 156 days.
Properly securing a server is an ongoing process and not a one-time procedure. It can be quite complicated and time-consuming to secure your server.
For example, you must regularly make sure the kernel and binaries on the server are properly updated, that the server has a properly configured firewall.
If you use WordPress, you must make sure all of your themes and plugins are up to date, and more.
With Managed Support, the support team will take care of securing your server for you.
Performance
Everyone wants to have a fast website.
No one ever tries to make their website slow down a bit, but if you're not properly optimizing your server for performance, you're not reaching the full performance potential that your website and server have.
You could buy the fastest hardware in the world and have the most resources available for your website, but without proper performance optimization, you're only really doing 50% of the work, if that.
An experienced system administrator will know how to properly optimize the software running on your server so that it reaches the best performance it could.
With Managed Support, the support team will generally take care of the performance optimization upon request.
Troubleshooting
If you're new to the world of servers and hosting, you should know one universal truth: things can and sometimes will go wrong.
Imagine that your car battery died, that's a common issue that has probably happened to you in the past.
What did you do when that happened? You took it to the mechanic so that he can fix it, right?
You didn't try to fix it yourself because you don't know enough to fix it and for a mechanic that's an easy task.
The same exact logic should apply to your server. If something goes wrong with your server, you could spend hours or even days trying to figure it out, while your users suffer downtime or slow performance.
Website Migrations
Migrating websites the right way can be a complicated thing to do.
cPanel/WHM does simplify the process but you still need to make sure the migration is done properly.
Examples of common issues that happen during cPanel to cPanel migrations are permission issues or mismatch between the software on the origin server and the software on the destination server.
Comparing Unmanaged vs Managed Support
Should you get managed or unmanaged hosting?
Everyone's different, so we can't give you a one-size-fits-all answer. However, this summarizing table can help you make the right choice.
The following table summarizes the main differences between our unmanaged servers and our fully-managed servers
We're here to help!
Choosing the right dedicated server for you doesn't have to be hard.
Contact us today, and we will help you find the right server for your needs. Managed or unmanaged, we're here to help!
Award-Winning Dedicated Servers
Please select the dedicated server type that best matches your needs:
NETHERLANDS DEDICATED SERVERS All of our dedicated servers are hosted in The Netherlands. Build the right dedicated server for your needs.


View All Servers ›
UNMETERED DEDICATED SERVERS Designed for high-bandwidth use cases. Experience truly unmetered premium bandwidth from 100 Mbps to 20+ Gbps.


View Unmetered Servers ›
MANAGED DEDICATED SERVERS Free up your time and focus on your business. Our 24x7 managed support will set up, secure, and optimize your server.


View Managed Servers ›