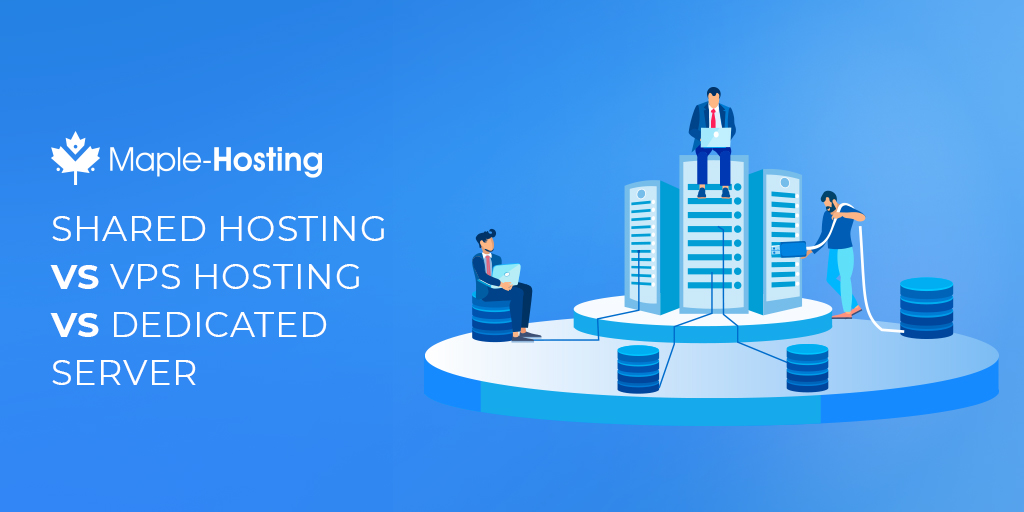 Every year, more and more people reach that point of researching the right solution for their hosting needs. That makes sense considering the fact that 380 new websites are created every minute.
Choosing the right hosting company can make all the difference in the world. A fundamental part of this process is finding the right kind of hosting for your needs.
So shared hosting, VPS hosting, dedicated servers hosting – What are the main differences and how can you know which one is the right choice for your business?
How To Approach Hosting
Imagine for a moment that you are looking for a place to live. You don't have much to spend, and you want the least expensive option that meets your needs.
Finding the right web hosting is no different. You are looking for a web hosting service that will meet your needs without wasting money on unnecessary features or resources.
If you live alone, an apartment makes a lot more sense than a 5 bedroom mansion. Your hosting should always match your needs.
Shared Hosting: The Most Affordable Option
Let's continue the analogy of looking for a place to live.
The least expensive option for your company is shared hosting.
It is a lot like renting in an apartment complex. Your company is given a certain amount of space to host your websites.
The Cons
You don't own the server, and like an apartment, you are not allowed to make changes to the architecture. You also have to live by rules of the person hosting the server and share resources with other tenants.
So, while shared hosting is the least expensive option, it is also the most restrictive for your company.
The Pros
Now, such an environment is fantastic for companies with basic needs that want their services to be managed for them.
For example, if you are busy with work all the time, then having a landlord take care of the plumbing and heating means you don't have to do it yourself or hire someone for it.
While shared hosting can be restrictive, it lets many companies take a majority hands-off approach to their hosting.
Shared Hosting Alternative
We do not offer Shared Hosting services. Instead, you should check our Fully-Managed cPanel Dedicated Servers
With these servers, managing your server will be as easy as managing your shared hosting account.
The best part is that a dedicated server doesn't impose the extensive resource limits that shared hosting does. That means you can use it to host unlimited websites, databases, cPanel accounts, FTP accounts, etc.
Need to secure your server? What about running an optimization audit? Simply submit a Fully-Managed Support ticket and our team will handle it for you quickly and easily.
VPS Hosting: Sharing With Less Limitations
If shared hosting is like renting an apartment, then VPS hosting is like owning a condominium (aka condo).
The Pros
You still share a server with other people. At the same time, you have far more control over what you can do with your space.
Want to redo the condo and install a new look and function? Unlike shared hosting, VPS hosting allows you to make fundamental changes to the virtual drive.
With VPS Hosting, you also compete far less for shared resources. A condo with 5 units versus an apartment with 20 units means you have a lot more access to available resources.
People enjoy VPS hosting for the same reason people enjoy condo owning. You have a say in how the space is used while someone still takes care of the overall building and grounds.
This in turn translates into providing more options for your company to customize the hosting space which then means you are more able to expand and perfect your web presence.
VPS Hosting has been a preferred choice for WordPress hosting. Before choosing the right hosting for your WordPress site, check out this hosting comparison to make sure you go with the right option for your needs.
The Cons
The downside of VPS Hosting is that some "noisy neighbors" can significantly influence your experience.
For example, if another VPS on the same physical server as your VPS gets DDoS attacked, your VPS will suffer the consequences in the form of downtime and packet loss.
Furthermore, different VPS hosting technologies can be much less stable and secure than others. For example, Xen virtualization provides much better isolation, reliability, and security than OpenVZ virtualization.
Dedicated Hosting: Maximum Stability & Reliability
Homeownership is considered a part of the American dream. For many companies, getting to the scale where dedicated hosting is required is a company dream.
The best comparison for dedicated hosting in our real estate analogy is homeownership.
The Pros
With dedicated hosting, you get full access to all resources on the server. No one else occupies your server space except for you.
Like homeownership, you can cut down trees, build a new house, and otherwise make any and all changes that you deem necessary when creating the right environment for your company.
At the same time, dedicated hosting requires that you manage your resources yourself or pay your hosting company to do this for you with what is known as a fully managed dedicated hosting service.
In our analogy, homeowners have to either hire professional help or fix problems like leaking pipes and home repair themselves.
The Decision is Based on Your Specific Needs
We began comparing Shared Hosting vs VPS Hosting vs Dedicated Server Hosting by looking at your needs.
If you are a family of 5, having a house makes more sense because you will need more room. However, if you're a growing business means that you need more hosting space, then going with dedicated hosting is the right option.
On the other side of things, if your business is smaller and has less traffic, then you can save a great deal by going either with VPS or Shared hosting.
Where The Real Estate Analogy Falls Apart & You Benefit
The one benefit of hosting is that unlike an apartment, it scales.
Many companies will provide you with service ranges depending on your need. If and when your company requires more space, all you have to do is opt for a bigger plan and you can expand your footprint online.
Hosting can react in real time-based needs, staying relevant and to the point as your company pivots towards new opportunity.
Regardless of what type of hosting you choose, selecting the right hosting company can make all the difference in the world for your business.
Award-Winning Dedicated Servers
Please select the dedicated server type that best matches your needs:
NETHERLANDS DEDICATED SERVERS All of our dedicated servers are hosted in The Netherlands. Build the right dedicated server for your needs.


View All Servers ›
UNMETERED DEDICATED SERVERS Designed for high-bandwidth use cases. Experience truly unmetered premium bandwidth from 100 Mbps to 20+ Gbps.


View Unmetered Servers ›
MANAGED DEDICATED SERVERS Free up your time and focus on your business. Our 24x7 managed support will set up, secure, and optimize your server.


View Managed Servers ›