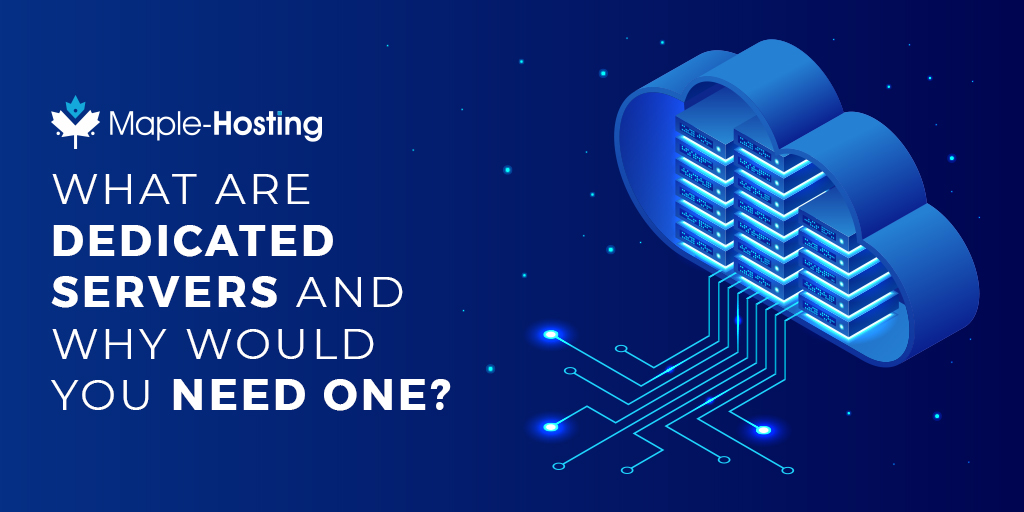 Nearly 2 billion websites reside on servers around the world. By the time you finish reading this article, there will be a thousand more.
Businesses large and small benefit from websites of their own. If you've looked to create one, you've seen providers talk about dedicated servers. But what are dedicated servers, anyway?
The choice between dedicated server hosting and other alternatives can have large ramifications. Read this guide to better understand dedicated servers and their inherent benefits.
What Are Dedicated Servers?
Have you ever wondered what happens when you access a website? In short, you're connecting with a physical storage server. This server holds all the essential website information and shares it with visitors.
This is known as web hosting. Unless you have a technical background, you'll have to rely on a web hosting provider to make your website publicly accessible.
A Dedicated Server is a type of web hosting service in which the client has full and exclusive use of the whole server without resources being shared with anyone else.
There are two different types of web hosting: shared and dedicated. Which one is right for you and your business?
A shared hosting provider uses a single server to maintain several different websites. This means your website will have to share resources with those of other companies. Shared hosting is generally a bit cheaper but is otherwise an inferior option.
In contrast, a dedicated server supports a single client and is not shared with any others. When you lease or rent a dedicated server, you receive all the resources you pay for.
Why Do You Need a Dedicated Server?
The difference between shared hosting vs. dedicated hosting is not as minute as you may think. Dedicated servers are more secure, offer better performance, and can handle more traffic to your website. Even a small business can profit from these benefits.
Let's take a closer look at these benefits and what they mean for your company.
1. Security Protection
Dedicated web hosting is a controlled environment. As the sole owner, you choose who has access to the data and server. There's also more flexibility to enact sweeping security protocols that would be impossible on a shared server.
Shared web hosting presents a variety of security complications in comparison. For example, it's possible shared users can gain access to your website's data. While unlikely, it's not unheard of. The chances are significantly higher for that to happen on a shared server than with a dedicated server.
Banks and other financial institutions consider it a serious security threat. That's why shared hosting is not PCI compliant. Since the information isn't secure, you can't handle credit card transactions.
2. Superior Performance
Everything on a dedicated server is yours. You don't have to worry about sharing server bandwidth during peak business hours. The web host will give you root access to the server, allowing you to customize server settings and use its resources more efficiently.
Dedicated servers have a lot of resources and it's unlikely you'll use them right away. This gives your website more flexibility to scale. You have more room to add extra functionality later on, such as an e-commerce store.
At your request, most hosting providers are happy to upgrade your server. With a short downtime, they can add storage or ram to keep things blazing fast. Alternatively, they can transfer your data to a superior device.
Shared hosting plans rarely advertise the performance capabilities of their servers. You'll have an idea of your storage space and may have a guaranteed bandwidth. However, this speaks little of its actual processing power.
3. Search Engine Optimization
The most important advantage of a dedicated server? Better search engine optimization.
Google penalizes websites with slow loading speeds, which are common with shared hosting plans. This penalty is a lower website ranking and thus reduced website traffic.
You may have heard that sharing an IP address on a shared server is bad for SEO. Let's say one of your server neighbors is a malicious or adult website. Some think that search engines may delist the website via its IP, removing yours in the process. While this thought makes sense, Google has explained that a shared IP in and by itself doesn't make you less likely to rank. However, having a dedicated IP does it make easier to set up an SSL certificate which does affect ranking, user safety, and their experience.
Lastly, bad website performance deters website visitors. Almost 50% of visitors will leave a page that takes 3 seconds or longer to load. Since dedicated hosting provides superior performance, it's easier to guarantee quick load speeds.
4. Uptime Reliability
Dedicated servers are more reliable. The actions of other websites will have no impact on the functionality of your own. And under periods of heavy stress, you have more control over resource allocation.
More people use a shared network, so it's more likely problems will occur. The server host may have to disable the entire network just to make a fix for a single client.
On a shared network, you're more vulnerable to a distributed denial of service (DDoS). Someone can target a neighboring website on your shared server. Since a DDoS overloads server resources, your website will go down in the process. This can cause VPS Hosting and Shared Hosting plans to be much less stable than Dedicated Servers.
Dedicated networks tend to have more sophisticated DDoS protection. There's also less chance you'll be a target since an attacker must aim for you directly. And when something does go wrong, you can contact your server provider for immediate physical support.
Choose the Best Dedicated Server Provider
What are dedicated servers without a great web host provider? You'll find a litany of hosting services everywhere you look. But not every server host is worth your time and money.
Maple-Hosting has been providing superior dedicated hosting services for over ten years. We offer 100% uptime reliability and 24/7 support to keep your website running its best. Check out our dedicated server plans and discover if one is right for you.
Award-Winning Dedicated Servers
Please select the dedicated server type that best matches your needs:
NETHERLANDS DEDICATED SERVERS All of our dedicated servers are hosted in The Netherlands. Build the right dedicated server for your needs.


View All Servers ›
UNMETERED DEDICATED SERVERS Designed for high-bandwidth use cases. Experience truly unmetered premium bandwidth from 100 Mbps to 20+ Gbps.


View Unmetered Servers ›
MANAGED DEDICATED SERVERS Free up your time and focus on your business. Our 24x7 managed support will set up, secure, and optimize your server.


View Managed Servers ›