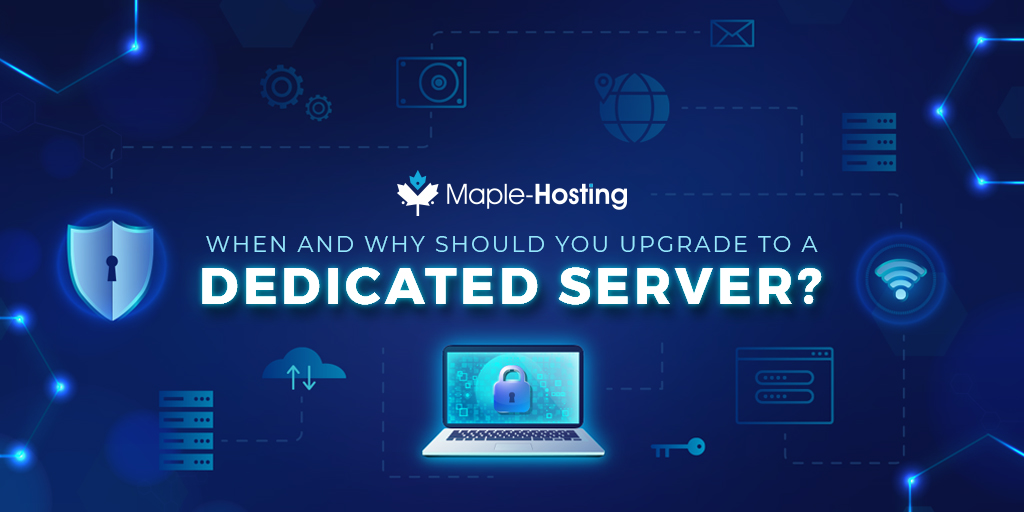 Suppose you are a business owner with a sophisticated online presence and a growing customer base bringing more and more traffic to your website. In that case, it may be time to consider switching to a dedicated server.
With 46% of internet users abandoning poorly performing websites, it is not a decision to take lightly.
You may already be familiar with shared hosting, which is excellent for upstarts and small business websites, but still has its limitations.
A dedicated server is designed to adapt to the continuous growth of your business while offering numerous other benefits. Keep reading to learn more.
What Is Dedicated Server Hosting?
Dedicated server hosting is a website hosting service where you, as a client, are provided with entire server space for your own business. You no longer share the server with other websites that could pose several security and performance risks to your business.
Yes, dedicated server hosting will be priced higher than what you would pay for shared hosting, but the benefits far outweigh the price increase. Let's move forward with those benefits now.
1. Increased Security
Dedicated servers are designed with security in mind for your business. They are inherently more secure than shared servers because – well, they are not shared. Server security is essential, with four businesses falling victim to ransomware attacks every minute.
No other business will be using the same server as you are. Thus, providing you with a server platform that is less prone to security threats and data breaches. The only way a hacker can pose a security threat to your online business with a dedicated server is if they hack the server directly.
You're a business owner running a website collecting sensitive private data from the people visiting your website. If someone's data is stolen from your website, it is your responsibility – no one else. That is a liability you don't want to have to face.
With shared hosting, a lousy neighbor could pose a severe security threat to your business. With a dedicated server, there are simply no neighbors that could affect you that way.
2. Improved Reliability for Increased Traffic
Nothing could be more exciting to a business owner than seeing increased traffic to their website. A growing business website can handle more and more online traffic. Well, not if it crashes due to limited server space or bandwidth. Downtime due to limited server resources is an absolute killer to any online business.
You not only face losing potential customers, but if your website repeatedly crashes, it can negatively affect your search engine optimization results. Thus, putting every single hard-earned dollar, you spent on SEO into the furnace.
The best dedicated server hosting is designed to grow with your online business, and you are not limited to the server space available to you. This allows you to focus on building your site without worrying about traffic slowing you down – but, in fact, making you more profitable.
3. Website Loading Speed
Your dedicated server resources are not limited to helping with website traffic. How much bandwidth you have available to you will positively or negatively impact your site's loading speed. Have you ever watched the page loading wheel that spins and spins while never revealing a web page?
Right – we have, too. We left and never looked back!
With better technology comes increasing expectations on website performance by customers. The average wait time for a website page to load becomes inherently smaller and smaller. Google estimates that an average web page should load within three seconds or less.
Google considers that number when factoring in your website's SEO score, too. A dedicated server will allow you to leave any worries you have about website performance behind. Let the traffic rain in.
4. Customize Every Aspect of your Dedicated Server
A shared hosting provider will often limit the capabilities you have to control your server settings – for a good reason. Usually, shared hosting clients are unfamiliar with how to manage and secure their websites. With a dedicated server, you get full root & administrator access, which allows you to install and configure your server to match your exact needs.
You are in complete control of your dedicated server network.
5. Business Growth Potential
If your online presence is small or just starting up, you are still expecting to grow at some point. Don't wait to find a dedicated server host who can adapt and assist you with your expected growth.
Don't be afraid to start researching and communicating with dedicated server hosts to make the transition as smooth as possible. You do not want to risk outgrowing your shared server and not having a dedicated server host to assist you.
Another problem to consider is that as your site grows, your resources and web assets grow too. It will become more and more difficult to transfer that information to a new server as you continue to grow. The sooner you can switch to a dedicated server, the sooner you have a real home on the web to grow into.
Changing servers during a period of rapid growth will only result in precious downtime for your business – resulting in a loss of new customers and potential profits.
Do You Need a Dedicated Server?
A dedicated server is a must-have service for the profitable and growing online business owner who may already use shared hosting. Maple-Hosting has been offering highly customizable Netherlands dedicated servers since 2008. We offer three types of dedicated servers for you to choose from:
Fully-Managed Dedicated Servers: Managed dedicated servers include 24×7 support for tasks related to setting up and securing your server, optimizing its performance, performing software and kernel upgrades, setting up or restoring automatic backups, performing website migrations, and troubleshooting common issues.
Unmanaged Dedicated Servers: Unmanaged dedicated servers include 24×7 support for tasks related to hardware or network issues. Support is more limited in the topics it covers, and the price is therefore lower.
Unmetered Dedicated Servers: An unmetered dedicated server is a type of dedicated server that has no limits on the amount of bandwidth that can be used as per its assigned bandwidth port.
Contact our team when you are ready to discuss dedicated server hosting for your business.
Award-Winning Dedicated Servers
Please select the dedicated server type that best matches your needs:
NETHERLANDS DEDICATED SERVERS All of our dedicated servers are hosted in The Netherlands. Build the right dedicated server for your needs.


View All Servers ›
UNMETERED DEDICATED SERVERS Designed for high-bandwidth use cases. Experience truly unmetered premium bandwidth from 100 Mbps to 20+ Gbps.


View Unmetered Servers ›
MANAGED DEDICATED SERVERS Free up your time and focus on your business. Our 24x7 managed support will set up, secure, and optimize your server.


View Managed Servers ›