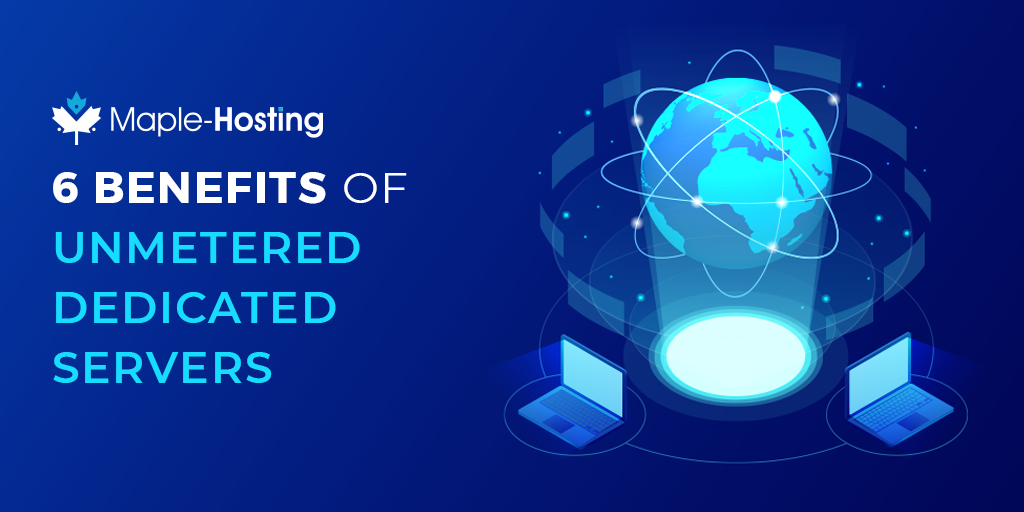 One of the first things you need to consider when building a website is how much bandwidth will be required. Bandwidth usage depends on several factors, such as the number of daily visitors. Videos and other large media files significantly increase the amount of bandwidth needed.
At Maple Hosting, we're more than happy to help you make the right decisions for your server.
Our hosting plans are fully customizable and can be scaled up or down as your business needs change. We've been offering award-winning unmetered dedicated servers since 2008.
Many of our clients choose an unmetered dedicated server because it's the perfect choice for video streaming and similar high-bandwidth use purposes.
With this option, you can use as much bandwidth as your purchased port allows.
You choose a maximum bandwidth throughput, and then use as much bandwidth as that bandwidth speed (or port) can offer. If that sounds confusing, we explain it further in this article.
Servers with unmetered bandwidth are an ideal solution for gamers, video bloggers, and online businesses with massive traffic.
Interested to find out more? Here's what you should know about unmetered dedicated server hosting and how it benefits your business!
How Unmetered Dedicated Server Hosting Works
First things first, make sure you actually need an unmetered dedicated server.
This service appeals to file hosts, game hosts, news media websites, and media companies that stream videos to large audiences. It's suitable for online stores with a wide range of products and a large number of visitors, too.
Unmetered dedicated servers may also benefit organizations with rapidly growing websites. If your business uses its servers to send or receive large amounts of data, this service could save you a fortune in the long run.
The opposite of an unmetered server is a metered server. With a metered dedicated server, you'll get a specific amount of bandwidth per month. Most web hosting providers will offer about 1TB of traffic on a 1Gbps connection. Some offer more, some offer less—and that may or may not be enough for your needs.
If you exceed that limit, you'll pay extra. In the worst-case scenario, the host may temporarily shut down your website or rate limit your port. Both scenarios will result in downtime.
Unmetered hosting plans, on the other hand, allow you to use as much bandwidth per month as needed without paying extra fees. However, note that unmetered doesn't mean unlimited.
When you choose this option, you're given a specific port size with no limits on the amount of bandwidth. Therefore, you may use as much bandwidth as that dedicated port can handle. The data is unmetered but not unlimited.
Let's review some of the benefits of using an unmetered dedicated server:
1. More Freedom and Flexibility
A metered hosting plan may force you to cut back on apps, images, videos, and other media files that your business needs. Sure, you can use a CDN (content delivery network), but your expenses will go up.
Unmetered dedicated hosting allows for high-bandwidth usage while reducing the costs involved. With this service, you'll pay a flat fee and have the freedom to configure your server without cutting back on resources.
2. No Hidden Fees or Overage Charges
When using traditional hosting, you must keep an eye on the amount of bandwidth used. If you exceed the limit, you'll end up paying overage fees.
Many hosting companies charge anywhere from $0.05 to $0.25 per gigabyte overused. That means that accidently overusing 10 TB of bandwidth, for example, could cost you a hefty $2,500 fee.
That's not the case with unmetered dedicated server hosting.
This service is designed to provide users with the most cost-effective infrastructure solutions. If you ever experience traffic surges, you won't have to worry about extra charges at the end of the month.
3. Scalable Solution
As your business grows, you may need to store and process higher amounts of data.
For example, your website traffic may double or triple within months. If that happens and you use a metered dedicated server, you can end up paying hundreds of dollars in extra fees.
A major advantage of unmetered servers is their scalability. At Maple Hosting, you can upgrade or downgrade your unmetered port so that your bandwidth port grows and shrinks as your business needs change. Not all hosting providers offer this feature.
If, say, you opt for a 1 Gbps dedicated unmetered port, you can upgrade to 2, 5, 10, or 20 Gbps as your data requirements increase.
Likewise, you can scale down when you no longer need the resources that were initially allocated.
4. Better Performance
Many of the apps that keep your website running smoothly require extensive server resources.
A metered server can limit your ability to grow and optimize your business site. Every time you install a new app or add-on, you must consider the amount of bandwidth used.
This aspect alone is reason enough to sign up for unmetered dedicated server hosting. Once you make the switch, you can focus on improving the performance of your website to get more traffic and sales.
5. Expand Your Services
About 13% of consumers watched a live gaming stream in 2020, reports GlobalWebIndex. The same source states that more than one-third of internet users are gaming or social live streamers.
Moreover, live streams are gradually replacing their real-world counterparts, from concerts to exercise classes. Businesses can leverage this trend to expand their reach and drive customer loyalty.
However, this isn't really an option for those who are constantly worried about bandwidth usage. But you can always switch to an unmetered dedicated server.
By taking this step, you'll be able to better meet the ever-changing demands of your audience. You could offer live streaming, online games, apps, and other services on your website to boost user engagement.
6. Focus on the Core Aspects of Your Business
Unmetered dedicated server hosting drives more efficient resource allocation. With this service, you'll have the freedom to grow your online presence without wasting time trying to reduce bandwidth usage.
Consider the cost savings, too. Why pay extra for bandwidth when you can sign up for unmetered hosting and spend your money on product development or advertising?
Switch to an Unmetered Dedicated Server Today
Now that you know more about the benefits of using an unmetered dedicated server, go ahead and make the switch! It's one of the best investments you can make in your business. It might be exactly what you need to get more customers, increase sales, and build a strong brand.
At Maple Hosting, we offer feature-rich dedicated servers with a 100% uptime guarantee and 24/7 support. See our plans and take your pick or contact us to discuss your needs!
Award-Winning Dedicated Servers
Please select the dedicated server type that best matches your needs:
NETHERLANDS DEDICATED SERVERS All of our dedicated servers are hosted in The Netherlands. Build the right dedicated server for your needs.


View All Servers ›
UNMETERED DEDICATED SERVERS Designed for high-bandwidth use cases. Experience truly unmetered premium bandwidth from 100 Mbps to 20+ Gbps.


View Unmetered Servers ›
MANAGED DEDICATED SERVERS Free up your time and focus on your business. Our 24x7 managed support will set up, secure, and optimize your server.


View Managed Servers ›