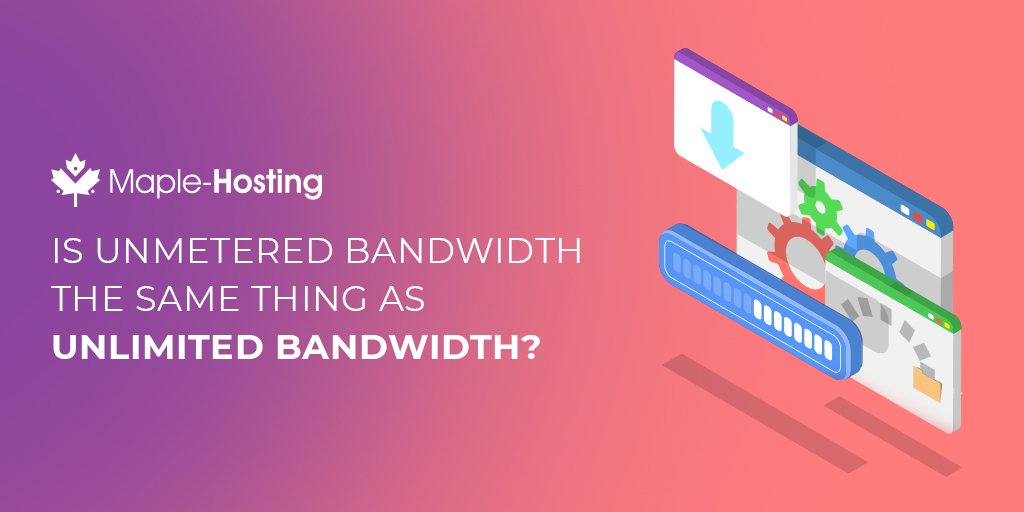 Over 4.3 billion people — or 56% of the world's population — now use the Internet.
On any given day, many of these Internet users carry out over 3.5 billion searches on Google alone.
And upon clicking on a search result, they end up on one of the 1.27 billion active websites today.
Now, wouldn't it be awesome if these users landed on your website? Of course. But for them to even see your site's contents, your website needs to be on a server with sufficient bandwidth.
This is why you should consider a server offering unmetered bandwidth. With this, you don't have to worry about your host charging you based on the volume of traffic your site gets. You can ensure quick loading web pages, especially if your site tends to get a lot of visitors.
The big question is, does "unmetered" equate to "unlimited"? Is there even a difference between unmetered and unlimited bandwidth?
We'll answer all these questions (and more) in this post, so be sure to read it all the way to the end!
Back to Basics: What Bandwidth Is in the First Place
The term "bandwidth" can mean a lot of things, but in general, it refers to a network's capacity.
In web hosting, bandwidth is the amount of transferable data within a given amount of time. In web servers, it also refers to the included amount of data transfer.
So, a web server with a bigger bandwidth port can move data way faster than one with a smaller bandwidth port.
One way to visualize bandwidth is to think of a water hose. A low-bandwidth server is comparable to a standard garden hose, which is quite narrow. Whereas a high-bandwidth server is like a super-wide fireman's supply and relay hose.
As you can imagine, the higher the bandwidth, the more data you can transfer. Of course, greater bandwidth also means faster data transfer.
Why You Need to Care about Bandwidth
79% of online shoppers who were unhappy with a site's performance say they may no longer buy from that site again.
That's almost eight in 10 customers whom you may never see again!
The question is, what led to them feeling dissatisfied? For one, slow-loading pages.
In fact, almost half of consumers expect web pages to load in under three seconds. Take longer than that, and 40% will leave that website. All that means loss of potential customers, which ultimately leads to loss of profits.
While there are many things that can contribute to site and page speed, bandwidth is a huge factor.
Again, low bandwidth means you can transfer only a small amount of information at a given time. What's more, an increase in site visitors will further slow down a website with low bandwidth.
Where Unmetered Bandwidth Comes into Play
Determining how much bandwidth your server needs can be a challenging task, which is why having unmetered bandwidth is very useful.
An unmetered bandwidth delivers an unlimited amount of data transfer every month.
This type of bandwidth plan is usually part of unmetered dedicated servers. With unmetered servers, you can use as much bandwidth as the dedicated port you bought can handle. The best unmetered dedicated servers even let you customize your bandwidth plan.
Depending on the traffic you get and expect, you can choose from 100 Mpbs to 20 Gbps of bandwidth. Most websites with average traffic run without issues on an unmetered 1 Gbps port.
But for new websites that are still only getting few visitors, a 100 Mbps unmetered port is often enough. 
If you're setting up a video streaming server, you'll probably need 1 Gbps at a minimum, but as you grow, you'll need bigger and bigger unmetered ports to support your growth.
What About Unlimited Bandwidth, Then?
The term "unlimited bandwidth" can be misleading, as it still has some limitations.
First, all hosting providers have a limit on the bandwidth that they can produce. That already means they can't produce infinite bandwidth.
Granted, certain plans that claim to be "unlimited" do allow users to use as much bandwidth as they could. But only to a certain point — after using say 10 GB, the excess usage would come with higher costs.
It's kind of like how your cell phone plan has "unlimited data". It's unlimited up to a certain point (usually 15 or 20 GB per month), which you could call a limit.
With most providers, the use of the term "unlimited bandwidth" or "unlimited data" is for marketing purposes. Take it with a grain of salt.
The Main Difference: Unmetered Plans Are More Transparent
With unmetered bandwidth, you'll know what your data transfer limits are.
This transparency then allows you to set the right expectations. Depending on your site's needs, you can choose a plan with enough bandwidth to handle site traffic.
After all, it's up to you to choose the capacity level of the dedicated port you'll purchase.
If you opt for a port that can handle 2 Gbps of bandwidth, then that's exactly what you can use. You can max out that bandwidth without worrying about additional costs.
Keep in mind that with Maple-Hosting, you can get a burstable port which is useful if you expect some short bursts over your dedicated bandwidth port.
For example, if you need a 5 Gbps port but think you may have short bursts that reach 6 Gbps, having a burstable port of 6 Gbps or more is crucial.
Without a proper burstable port, you may end up with buffering, lags and slow website loading time.
"Unlimited bandwidth" plans, however, can mean unlimited bandwidth up to a certain point.
For instance, you can transfer as much data as you need, but only the first 20 GB is free. After that, you'll face a massive bill for your excess bandwidth consumption.
Some providers of "unlimited bandwidth" can also set certain data transfer restrictions. This can be a limit on the amount of content you can upload or on the amount of traffic you can get at a given time.
If you go against these restrictions, they may pull the plug on your hosting service. They may also reduce your server speed as a "penalty" for using too many resources.
Either way, these penalties can cause your site serious downtime.
If your site becomes inaccessible, visitors can't get through and you'll lose profits. Worse, "excessive resource use" can be a ground for them to terminate your entire website.
Get Your Site on an Unmetered Server Now
As you can see, unmetered bandwidth is not the same as the so-called "unlimited bandwidth."
While some unlimited plans offer great service, they can still charge you more if you go beyond their "cap." Whereas with an unmetered server, you know exactly what to expect, making it a much better choice.
Besides, the best unmetered servers have a 100% uptime guarantee. They also have better security features and are more customizable and flexible.
Ready to transform your website into a speed monster without worrying about restrictions?
Then be sure to check out our True-Unmetered Dedicated Server options now! If you have specific server needs, you can also send us a request for your custom unmetered server quote.
Award-Winning Dedicated Servers
Please select the dedicated server type that best matches your needs:
NETHERLANDS DEDICATED SERVERS All of our dedicated servers are hosted in The Netherlands. Build the right dedicated server for your needs.


View All Servers ›
UNMETERED DEDICATED SERVERS Designed for high-bandwidth use cases. Experience truly unmetered premium bandwidth from 100 Mbps to 20+ Gbps.


View Unmetered Servers ›
MANAGED DEDICATED SERVERS Free up your time and focus on your business. Our 24x7 managed support will set up, secure, and optimize your server.


View Managed Servers ›