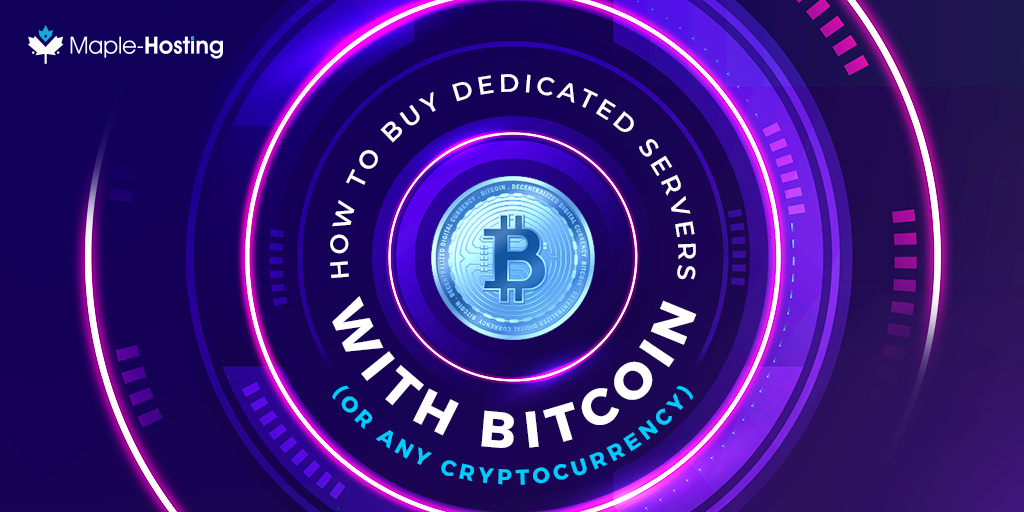 There are many reasons to buy a dedicated server. Large businesses usually require a dedicated server, to handle all of their online activity, websites, and communication, without sharing bandwidth with others.
Small businesses can also benefit from their own dedicated servers, as can individuals who decide to build their own websites.
Even those looking to host their own game server for online play can purchase their own dedicated server right now.
Certain dedicated server hosting providers allow you to pay for your dedicated servers with Bitcoin or other cryptocurrencies. Choosing bitcoin dedicated servers has many benefits, especially in cross-border settings.
By paying with Bitcoin, you can simplify the process of sending money across borders. Wondering why buying with Bitcoin is a good option for you?
Read on below to learn more about hosting dedicated servers and the benefits of Bitcoin.
What Is Bitcoin?
Bitcoin is the original cryptocurrency. It was first launched back in 2009 by an unknown developer who goes by the pseudonym of Satoshi Nakamoto. For a few years, Bitcoin was traded by tech nerds and cryptographers on the internet for a few cents apiece.
But as of 2022, the overall cryptocurrency market, that began with Bitcoin, is now worth more than $3 trillion. Cryptocurrency is revolutionizing the finance industry and changing the ways that people can send money and pay for goods and services.
While most people use Bitcoin as a long-term investment vehicle, you can also use it to make purchases.
Bitcoin is a virtual currency on the blockchain. Blockchains are online, distributed, open ledgers. They record all the transactions that have occurred with a particular cryptocurrency.
Many individuals and organizations around the globe actively participate in block creation (known as mining). Mining helps secure the network and prevents fraudulent transactions.
These blockchains are decentralized. Everyone has access to the record of transactions and can participate in network security. No single entity, person, or even government has the ability to control or censor transactions.
Benefits of Bitcoin
So why should you buy and use Bitcoin to pay for goods and services? Because Bitcoin is a digital currency, native to the internet, it's much more efficient than fiat currencies.
Bitcoin is a peer-to-peer currency. Individuals can send Bitcoin, and other cryptocurrencies, directly to each other. No banks or other middlemen are needed to facilitate the transactions. While transactions can take a few minutes to complete, due to high network activity, they are secure and cost very little in fees.
And when you send Bitcoin to an individual or company in another country, you won't have to deal with complex currency conversions and foreign transaction fees.
Bitcoin is the same in the Netherlands as it is in the US. Whoever receives Bitcoin can choose to convert it into their native fiat currency, or continue to hold Bitcoin.
The ability to pay with Bitcoin is also helpful to those who store their funds in Bitcoin as opposed to fiat, to hedge against inflation. Many countries are experiencing high levels of inflation, so holding onto their native currency means losing money by the day.
With the ability to make purchases in Bitcoin, individuals and businesses won't have to cash out their crypto just to make a purchase.
How Buying With Bitcoin Works
If you're new to the process of buying and selling with cryptocurrency, it can be a little intimidating. But once you complete a transaction or two, it will become second nature.
Your first step is to acquire some Bitcoin. To do this, choose a cryptocurrency exchange that is available to users in your country, such as Binance, Coinbase, or Crypto.com.
You'll need to verify your identity when creating an account. Once verified, you can fund your exchange account by linking a bank account, or with a debit card. Then, you'll be able to buy Bitcoin, and other cryptocurrencies, at the going rate.
With Bitcoin in your digital wallet, you can send it to any other Bitcoin-receiving wallet address around the globe. To do this, you'll "withdraw" crypto from your exchange account, paste in the receiving Bitcoin address, and confirm the transaction.
Bitcoin transaction time can vary, depending on network traffic. All Bitcoin transactions are "competing" for space in the next block on the blockchain, which are created roughly every 10 minutes.
Transactions can post in as little as five minutes or up to 30 minutes during periods of high traffic.
Buy Bitcoin Dedicated Servers
Ready to start customizing dedicated services with Maple Hosting? Our Tier-3 data center in the Netherlands has countless dedicated server features such as a 100% uptime guarantee, unmetered bandwidth, and a 24/7 support team.
And you can purchase a server from anywhere since we make it easy to purchase using Bitcoin. We partner with BitPay which allows us to accept your Bitcoin payments.
Paying for your Maple-Hosting invoice with cryptocurrency is simple and quick. You'll copy our Bitcoin address and paste it into your crypto wallet, or scan the QR code, and send the appropriate amount of Bitcoin within a few seconds.
After a few network confirmations, the transaction will be posted on the blockchain, and your server will be ready to start customizing.
Buy Dedicated Servers With Ethereum or Other Cryptocurrencies
Bitcoin is the original cryptocurrency, the most popular, and the most valuable by market capitalization. But it's not the only one you can use for transactions.
You can also buy dedicated servers with Ethereum, the second-most valuable cryptocurrency by market capitalization. Along with Ethereum, you can pay with any cryptocurrency accepted by BitPay, such as Bitcoin Cash, Ripple, DogeCoin, Shiba Inu, Litecoin, and even stable coins like UDSC.
Purchasing dedicated servers with any of these alternative coins is the same as buying with bitcoin.
Start Your Own Server Today
The benefits of dedicated servers are obvious; unlimited bandwidth, higher speeds, and greater levels of security. And now you know the benefits of Bitcoin dedicated servers, as you can buy your own servers using the current that is native to the internet and accepted globally.
Ready to get your very own dedicated server with Bitcoin? Click here to view all of our Netherlands dedicated servers and purchase them with Bitcoin or other supported cryptocurrencies.
Award-Winning Dedicated Servers
Please select the dedicated server type that best matches your needs:
NETHERLANDS DEDICATED SERVERS All of our dedicated servers are hosted in The Netherlands. Build the right dedicated server for your needs.


View All Servers ›
UNMETERED DEDICATED SERVERS Designed for high-bandwidth use cases. Experience truly unmetered premium bandwidth from 100 Mbps to 20+ Gbps.


View Unmetered Servers ›
MANAGED DEDICATED SERVERS Free up your time and focus on your business. Our 24x7 managed support will set up, secure, and optimize your server.


View Managed Servers ›