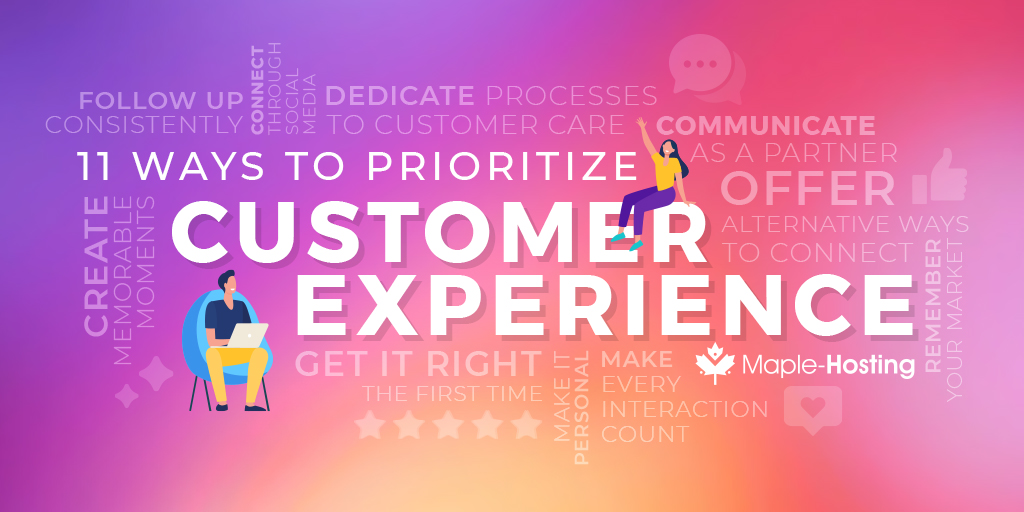 What is one way your company prioritizes customer experience?
To help business leaders improve their customer service, we asked CEOs and business executives this question for their best insights. From creating memorable moments to regularly following up with customers, there are several strategies that may help you optimize your overall customer satisfaction and grow your business.
Here are 11 ways to enrich your customer experience:
Dedicate Processes to Customer Care
Create Memorable Moments
Get It Right the First Time
Communicate as a Partner
Make It Personal
Offer Alternative Ways to Connect
Connect Through Social Media
Follow Up Consistently
Make Every Interaction Count
Remember Your Market
---
Dedicate Processes to Customer Care
Create a dedicated team of friendly customer care professionals. For us, this needs to meet our patient's needs. We recommend prioritizing patients or customers by offering quality, reliable, and affordable products and services by listening carefully to the needs they mention and explaining all options if you have varying packages. For example, if it's a first visit consultation, we listen to our patient's needs, provide a full oral exam, explain their available options, and answer any questions they might have.
Henry Babichenko, Eurodenture
Create Memorable Moments
Providing a positive and fun customer experience while learning about technical and otherwise "dry" topics is one of our core values. Security awareness is at the heart of what we do, but we deliver the information in ways that are enjoyable, sustainable, and memorable. So don't be afraid to insert fun or find ways to create those moments that will be memorable. We want anyone that goes through our training to enjoy themselves while learning valuable information.
Nick Santora, Curricula
Get It Right the First Time
Customer happiness is always the first priority. We ask a lot of questions when a job comes in to make sure we fully understand each job, doing this can help clear up any confusion as well. It's nice to get things right on the first go around by having clear expectations. When issues occasionally arise, look at it from the customer's perspective first. Take care of the problem and then discuss ways to prevent a recurrence of the issue.
Eric Blumenthal, The Print Authority
Communicate as a Partner
While managing the Client Services department, I find that clients and our internal team enjoy the interactive process so much more when communication is structured in a collaborative manner.Try to make the relationship feel like a partnership and not just a standard service obligation. This allows clients to provide insights and ideas during deliverable development stages and creates an inviting space for our strategists and writers to ask brand-related questions to those who know the brand best — the clients! It is important to act as an extension to your clients' teams so that they know you care just as much about their business and its success as they do.
Bailey Mills, Markitors
Make It Personal
We welcome every new customer with a short, personalized video. This has the benefit of helping them put a face to the company's name, showing them we value their business by taking the time to create the video. Creating a video is also much more informative and personal than a welcome email will ever be.
Quincy Smith, ESL Authority
Offer Alternative Ways to Connect
The key element of prioritizing customer experience is being available to your customers and making it easy for customers to get in touch with you. In my business, I have set up many toll-free numbers in different parts of our funnel and emails. Consider, like I did, assigning dedicated customer support agents for specific departments which handle various aspects of customer service. For example, shipping inquiries are assigned to a specific team of agents, billing concerns to another team, and refunds and returns to another team to enhance efficiency and faster response times to customers. Additionally, I enable SMS customer support to enhance better ways for customers to get in touch with our customer support teams.
Ashwin Sokke, WOW Skin Science
Connect Through Social Media
We have chosen to implement customer experience strategies via social media. It's an organic way for people to share opinions on your product, as well as connect with you and your brand on a deeper, more personal level. On our Instagram, we've created a video series where we share our personal journey into creating our business. Sharing our story has opened the door for our patrons to share theirs as well, opening up a conversation. We like adding a human aspect to our product.
Jing Gao, Fly by Jing
Follow Up Consistently
It's a fact that companies cannot exist without their customers, which is why the customer experience is vital for retaining business. One way a company can prioritize the customer experience is by focusing on quickly and efficiently responding to customers. For us, responding to customers in a consistent and frequent manner until we have arrived at a resolution has enabled them to build trust in our brand and remain loyal to us.
Bill Yates, Velociteach
Make Every Interaction Count
The customer experience is important to ensuring all interactions customers have with a company is a positive one. One way a company can prioritize the customer experience is by listening to and retaining customer feedback. Paying attention to customers is how we, as businesses, can truly know and understand our companies. Therefore, value the feedback, and use it to continuously enhance products and services and the customer experience as a whole.
Andrew Bernstein, Kinder Beauty
Deliver Sincere Customer Service
Focus on delivering human and personalized customer support. This way, no matter what happens, we keep our clients calm and with us. If an angry user texts us to say something about a system failure, we don't just apologize for the inconvenience as everybody else does. We answer with a sincere acknowledgment and even may offer a discount or a free premium upgrade to make up for our shortcomings. Instead of a formal tone, try applying an easy-going approach with stickers, emojis, and little jokes.
Tetiana Shataieva, HelpCrunch
Remember Your Market
Be sure to design a website that appeals to your specific and unique user base. For example, our customers are generally Millennials and Gen Z. So, we do our research on what appeals to them the most when it comes to aesthetics and visuals. Our inclusive and interactive website is a reflection of that.
Olamide Olowe, Topicals
Choose The Right Web Hosting Provider
Picking a quality web hosting provider will translate to an improved customer experience.
If you choose your web hosting provider wisely, you should expect improved website load time, decreased downtime, and even improved search rankings, all of which greatly affect your customer experience!
Contact us today for help finding the right dedicated server for your needs.
Award-Winning Dedicated Servers
Please select the dedicated server type that best matches your needs:
NETHERLANDS DEDICATED SERVERS All of our dedicated servers are hosted in The Netherlands. Build the right dedicated server for your needs.


View All Servers ›
UNMETERED DEDICATED SERVERS Designed for high-bandwidth use cases. Experience truly unmetered premium bandwidth from 100 Mbps to 20+ Gbps.


View Unmetered Servers ›
MANAGED DEDICATED SERVERS Free up your time and focus on your business. Our 24x7 managed support will set up, secure, and optimize your server.


View Managed Servers ›