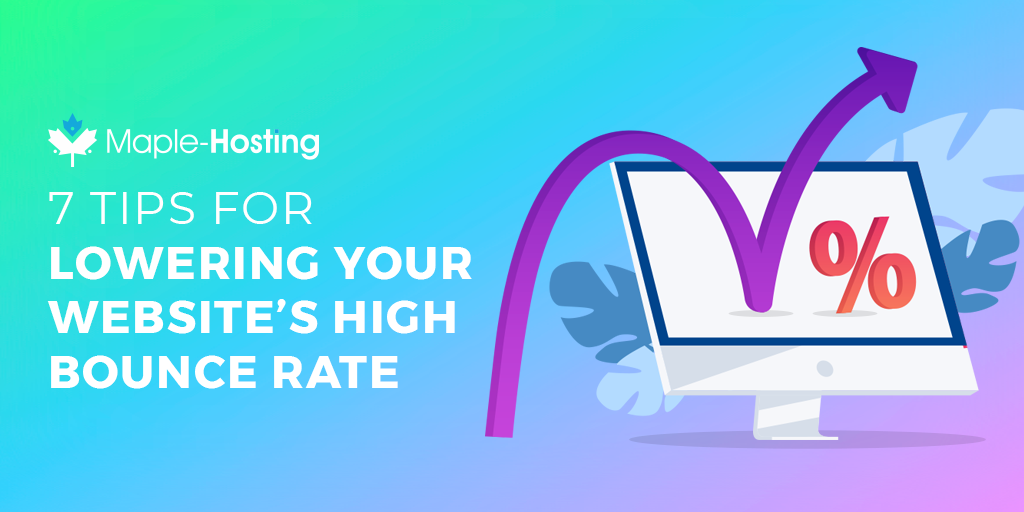 Are people visiting your website then leaving right away? Do you find it frustrating that you do not even have a chance to ask them why they left so quickly? Finding out why can be tricky, and you need to fix it to improve your SEO rating.
This effect is known as your bounce rate, and it is used by Google as a ranking factor for search engines. You need to reduce your bounce rate to increase organic footfall on your site and keep customers on your page.
Read on to find out how to reduce the bounce rate in seven easy steps.
1. Avoid Pop-Ups
Nothing is more frustrating than clicking on an article, only to be presented with a tide of pop-ups. When you finally manage to get through them, you go to scroll to the content you actually want to read, another appears and you accidentally click it, taking you to another site. 
Do you bother going back to the original site? Of course, you don't, you simply look elsewhere. Yet, these pop-ups can be effective at building you a strong email list, so should you use them?
The choice is entirely yours. While some pop-ups are unavoidable, such as legalities or age restrictions, you have to decide what is more important. On the one hand, you can reduce the high bounce rate on a website and improve your SEO score. On the other, you may decide to sacrifice this for a large pool of collected emails to use for marketing. 
2. Improve Your Readability
Blog content has changed the way we read. The information has to be presented in bite-sized chunks, broken down with images and headers to keep our attention. If not, people will leave the site and go elsewhere.
Use headers to break up content. They should be attention-grabbing and summarise the next three or four paragraphs. This helps the reader scan the page to find the information they are looking for.
Keep all paragraphs two or three sentences long. Then run your content through a grammar checker, and make sure you do not have too many hard to read sentences. If you find something large needs explaining in one go, then try bullet points instead.
Instead of writing heavy, fact-filled sentences, try to use infographics. Charts and diagrams will also hold attention more than black and white text.
Finally, choose your images wisely. Crop them so that they are all the same, and pick an attention-grabbing header image that sums up your content.
3. How to Reduce Bounce Rate With Directions
A website that holds people's attention and keeps them reading, is one that will have a low bounce rate. However, if your information is clear and people find what they want, then how are you supposed to keep them on your site reading your content? You can do this by giving directions.
The most obvious of these is a call to action (CTA). The CTA is usually placed at the end of an article and instructs people what to do next. "Buy our book!" and "Read our article on flowers" are examples of CTAs. 
Aside from the CTA, you can direct people to other articles on your site. For example, you may break up text with a link to related articles, or other items they may find interesting. All of this is giving them directions to other parts of your site, keeping them onside.
4. Update The Content
If you want to know how to engage website visitors and keep coming back to your site, then you need to keep the content fresh. It needs to be updated regularly, with new articles and products. All of this needs to be in plain sight of anyone who has just landed on the page.
Adding new content also draws people to your site when you share it on social media. Updating the content is also a ranking factor in search engine algorithms, so, it is imperative you keep new blogs and content coming.
5. Attract the Right Traffic
The key to getting the right traffic is publishing the right content, either in blogs, videos, or on social media. If you are aiming your content at the wrong kind of customer, then when they come to your website they will not be attracted to the product or service you are selling. This increases your bounce rate when they leave quickly.
Imagine you are writing articles for your travel website. The content is about exciting holidays, with pictures of people jet skiing on the beach and clubbing all night. When people arrive at your website, they find your travel site actually sells sedate cruising holidays primarily for the over 50 age group, so they leave.
Think about the length of your articles. Are your customers arriving to read long-form, opinion content, or are they turning up for 500-word soundbites and news?
6. Create Multiple Landing Pages
People will be arriving at your website for a number of reasons, so it pays to personalize their experience upon arrival. This can be done by tailoring your landing pages to certain keywords. These pages should follow all the rules for a good landing page but have content more geared toward the keyword they were searching for.
If we take a travel page as an example, let's say someone types 'Maldives holiday' into Google and gets your website as a result. When they click on it, your page comes up but shows all of your holiday offers, such as city tours in Europe, flights to South America, and a lot of information they don't need. They have to wade through all this to find what they are looking for.
With personalized pages, they land right on a page telling them about holidays in the Maldives. It may have images or directions on things to do and see such as the best hotels. You are giving them what they came for, quicker.
7. Reduce Load Times
The simplest indicator of a high bounce rate, but one of the trickiest to address, is your page speed loading time. In fact, Google uses this as a search algorithm in itself. If your page is slow, and people have to wait for information, they will just go elsewhere.
Hire a developer to remove any unwanted code from the backend of your site. Look at your theme, and check it is lightweight. Then try some plugins and tools to speed up the delivery of your pages.
You may also need to check your hosting. Check your web server has the right specifications for your website and can load what you need, quickly.
Check Your Hosting
Finally, check your website hosting when researching how to reduce the bounce rate. A slow server can seriously impact your website load time, particularly if you are aiming for mobile responsiveness. You need to find a host with super-fast servers, so customers do not go elsewhere instead of waiting for a slow page to load.
Maple Hosting has fast, efficient servers for anyone starting or migrating a website. We have multiple 5-star reviews with a range of hosting options including dedicated servers and offshore hosting. By using one of our dedicated servers, you can ensure that your website loads quickly which will help to reduce your bounce rate.
Contact us for a quote today and discuss these excellent options, all of which can improve your website speed, thus decreasing your bounce rate!
Award-Winning Dedicated Servers
Please select the dedicated server type that best matches your needs:
NETHERLANDS DEDICATED SERVERS All of our dedicated servers are hosted in The Netherlands. Build the right dedicated server for your needs.


View All Servers ›
UNMETERED DEDICATED SERVERS Designed for high-bandwidth use cases. Experience truly unmetered premium bandwidth from 100 Mbps to 20+ Gbps.


View Unmetered Servers ›
MANAGED DEDICATED SERVERS Free up your time and focus on your business. Our 24x7 managed support will set up, secure, and optimize your server.


View Managed Servers ›