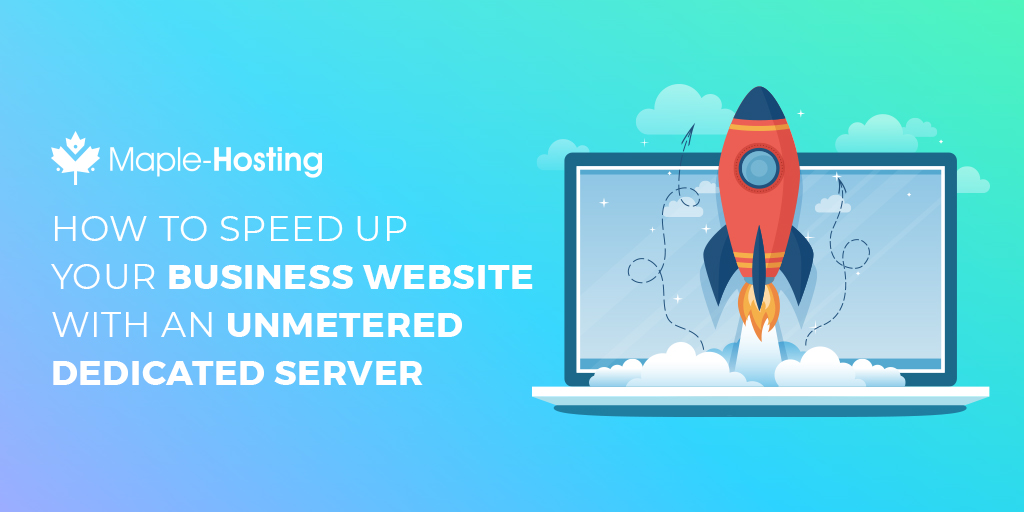 A lot of things are better when they're unlimited and unmetered. Unmetered parking, unlimited phone data, and, of course, an unmetered dedicated server.
Because the truth is, even in the era of cloud computing, unmetered dedicated servers still have clear advantages.
Want to find out whether an unmetered dedicated server can help you, and how it can make your website faster? Keep reading to find out more.
What Is a Dedicated Server?
First, though, we should answer a basic question: what is a dedicated server?
In web hosting, a dedicated server is rented or purchased by a company for exclusive use of a computer, software, server, and connection to the Internet, usually on the company's premises.
This is typically used to support a website or a set of related company websites that may receive a high amount of traffic.
Unlimited vs. Unmetered Dedicated Servers
You'll come across the phrase unmetered dedicated server and unlimited dedicated server, and it would be easy to think they're the same thing.
Not quite.
The simple answer is that there is no such thing as an unlimited dedicated server, in that every server has a finite limitation on the bandwidth it can produce.
An unmetered server is something else. There are limitations on its bandwidth (as with every server), but the company you buy or rent the server from isn't monitoring the amount of bandwidth you use or shutting it off when you reach a set amount of utilized bandwidth.
Do Dedicated Servers Increase Site Speed?
Most people who are new to websites opt for shared hosting, as this is usually the most cost-effective option available.
However, using shared hosting packages means that you're sharing resources with other sites using your server. That's great…until you get an unexpected influx of traffic and your site can't handle it.
The same thing applies to other websites on your shared server, too–if another site that shares resources with you gets a sudden influx of traffic, your site will suffer the consequences as well.
With a dedicated server, you never have to worry about this problem, as your server resources belong to you and you alone.
Hosting Package Elements That Affect Site Speed
That said, there is a variety of hosting package elements that can influence your site speed.
Funnily enough, these factors are the same ones that make your computer work faster. They include:
A fast, solid-state hard drive
Local resources stored directly on the server
Memory and processing power
Resources dedicated to you and you alone
Keep in mind that if you choose a shared server, you'll be sharing all of these resources with other sites. So even if the server itself does have good features, those features will be diluted among the many sites sharing server space.
How Does a Dedicated Server Boost Site Speed?
With that in mind, let's talk about how a dedicated server boosts your site speed.
Think of your shared server like an office building, with office spaces for individual companies to rent.
When you buy shared hosting space, you're essentially renting office space (usually 1 gigabyte or so) on a server that's hosting hundreds or thousands of other websites.
Since the server owner needs to ensure that every site runs smoothly, the server will allocate limits to each site in terms of bandwidth, disk space, processing memory, etc.
As with a startup in a rented office space, this is totally fine when you're starting out and don't have many employees.
But it isn't at all sustainable as your company grows and needs more desks (or, in this case, gigabytes).
A dedicated server boosts your speed because to put it simply, you get the server all to yourself. You never have to worry about bumping up against the limits of your allowed server space, and you never have to worry about another site draining your processing power.
Reasons to Consider an Unmetered Server
Sounds like a pretty good deal, right? If you're thinking of buying, here are a few more reasons why an unmetered dedicated server is worth your while.
Better Flexibility
If you use an unmetered dedicated server, you can rest easy.
That dedicated server is all yours. You never need to worry about being charged for exceeding your monthly allotment, or about using too much bandwidth for the server to handle.
You can focus on doing what you do best (running your business) and let your site match your pace of growth.
When it's a choice between constantly trimming down files to meet bandwidth limits and having a server that works for you, the answer is pretty obvious.
Better Overall Performance
If you don't have to spend all your time worrying about your available bandwidth, you don't have to worry about shrinking your site's files and usage to fit your allotted bandwidth.
And that leaves you the space to do…well, whatever you need to do.
Need to optimize your eCommerce store? You can do that. Need to make your blog more functional? You can do that too.
You can do whatever you want to make your site work better because your website has the space to work for you.
Added Security and Peace of Mind
And with better performance and stronger optimization, you get another added benefit: peace of mind.
With a dedicated unmetered server, you'll never have to choose between a secure website and a site that fits your bandwidth limits. You can put as many security features as you like–after all, your server is more than equipped to handle it.
Do You Need an Unmetered Dedicated Server?
Are you ready to put an unmetered dedicated server to work for you? If so, you've come to the right place.
We offer premium, award-winning plans that give you exactly the functionality you need. Want to find out how we can help? Get in touch today.
Award-Winning Dedicated Servers
Please select the dedicated server type that best matches your needs:
NETHERLANDS DEDICATED SERVERS All of our dedicated servers are hosted in The Netherlands. Build the right dedicated server for your needs.


View All Servers ›
UNMETERED DEDICATED SERVERS Designed for high-bandwidth use cases. Experience truly unmetered premium bandwidth from 100 Mbps to 20+ Gbps.


View Unmetered Servers ›
MANAGED DEDICATED SERVERS Free up your time and focus on your business. Our 24x7 managed support will set up, secure, and optimize your server.


View Managed Servers ›