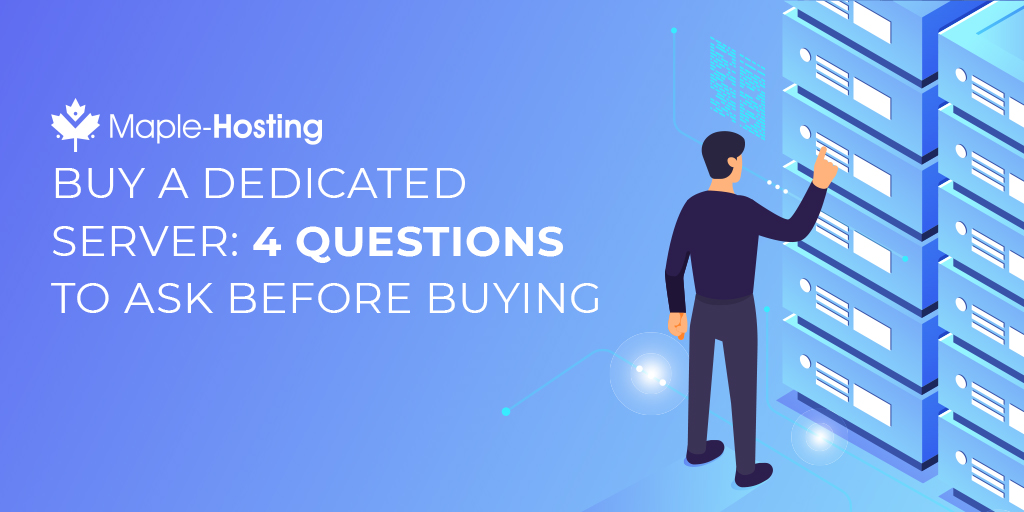 Before you buy a dedicated server you might have a few questions regarding what you can use it for. With most hosting companies, you will have an opportunity to customize your server or you can purchase one that meets your specific needs. It is very important to know what it is exactly you'll be using the server for, before buying one. Also, when buying a server, make sure you understand that it may be tough to add additional capacity later on.
Here are 4 common questions to ask yourself before you buy:
1. How will I be using this dedicated server?
Dedicated servers come with many different types of specifications. Tailored servers are available to meet customers at a certain price point, for a specific use case. A server hosting a static website is going to have different specifications than a server handling and storing patient health information. Therefore, understanding what your server is primarily used for is critical in getting the server you need for the lowest price.
2. Can I use my server for multiple purposes?
If this is the first dedicated server you are purchasing, you might be using it for multiple functions. Sometimes, this is okay. For example, installing WordPress on a single dedicated server means the server is acting as three different servers. A web-server, application server, and database server. However, some combinations will result in poor performance, open you to security risks, or are not cost-effective. For example, you don't want to have a server serving your primary website also serve a lot of videos. Video streaming requires resources, and you don't want your entire website slowing down because the server is also streaming video. In this kind of scenario, it is better to have a separate dedicated server for video-streaming.
3. Do I have legal obligations?
If you are handling user data, especially medical and financial data, there might be legal requirements concerning the design and set up of your dedicated servers. For example, while it might be okay performance-wise to have the database and application server on the same machine if the database is storing user medical data, you might be legally required to have the database on a separate machine.
4. What is your peak server load?
A dedicated server has a fixed server load. That can be a downside. You cannot easily add additional capacity if the load on a server increases. Therefore, it is important to size your dedicated server-based on peak server load. In the event server load exceeds this limit, have a contingency plan in place. For example, have a load balance ready to redirect traffic to a temporary server to meet the temporary surge in load.
Maple-Hosting is a privately owned hosting company that has been offering Netherlands VPS Hosting & Netherlands Dedicated Servers to partners around the world since June 2008. We focus on providing an exceptional hosting experience that allows our customers to focus on their businesses.
Award-Winning Dedicated Servers
Please select the dedicated server type that best matches your needs:
NETHERLANDS DEDICATED SERVERS All of our dedicated servers are hosted in The Netherlands. Build the right dedicated server for your needs.


View All Servers ›
UNMETERED DEDICATED SERVERS Designed for high-bandwidth use cases. Experience truly unmetered premium bandwidth from 100 Mbps to 20+ Gbps.


View Unmetered Servers ›
MANAGED DEDICATED SERVERS Free up your time and focus on your business. Our 24x7 managed support will set up, secure, and optimize your server.


View Managed Servers ›