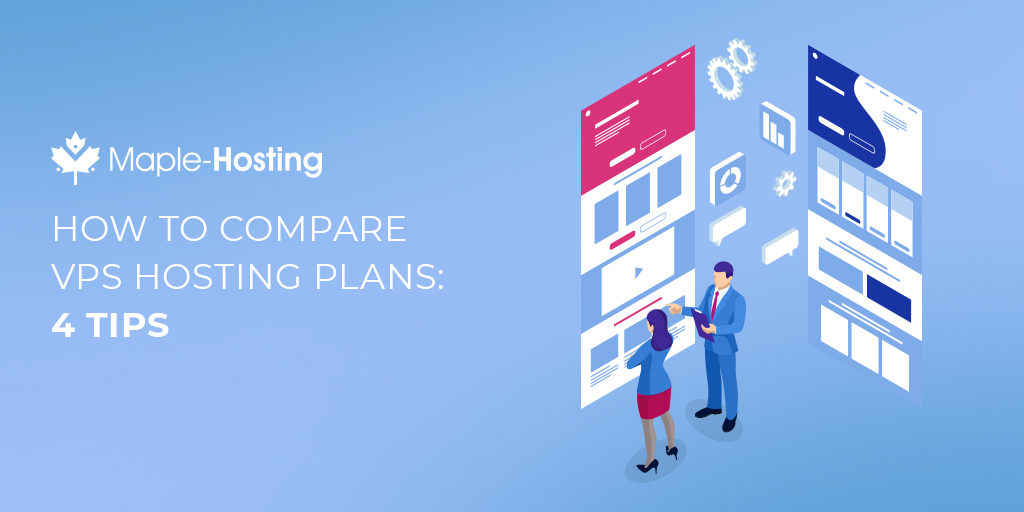 As an entrepreneur or IT head in a corporation, you may be facing the challenge of finding the right VPS hosting plan. With any business, the website is a key component to success. If you apply this same logic to your website, your VPS hosting plan is your key component to success.
There are different kinds of hosting: Shared Web Hosting, VPS Hosting, and Dedicated Server Hosting. Our focus in this article is to provide you with tips on how to find the right VPS hosting plan for your business.
1. Choose The Right VPS Hosting Provider
The first step is to know which is the right VPS provider for your needs. With many providers in the industry, it may be a bit of a challenge to find the right one that meets your need.
When searching for a VPS hosting service provider, it is important you focus on these factors:
A. Customer Reviews
As with any other industry, reviews reveal the secrets and give you everything you need to know. Perform a quick Google search to determine if the VPS Hosting provider you're considering has proven to care about its customers and go the extra mile for them, when needed.
B. Uptime Guarantee (SLA)
Ensure you choose a hosting provider that will refund your payment in case of downtime. This is not because you are okay with downtime if you get your money back. Knowing that your provider will give you your money back if you experience downtime caused by the provider is the best guarantee in the world that your VPS will stay up and running around the clock and that is easily the most important factor of any VPS hosting plan.
C. Support Quality & Reply Time
There is nothing more frustrating than needing support and having to wait for an extended period of time until you receive it. Make sure you choose a VPS hosting plan that comes with 24/7 support and a team that actually knows what it's doing.
There's more things to keep in mind when choosing the right Web hosting, VPS hosting or Dedicated Server hosting to answer your needs. Invest in your pre-purchase research, it will pay off.
2. Make Sure The VPS Resources Match Your Needs
The perfect combination of VPS resources depend solely on what you intend to host on your VPS hosting plan.
A. Memory (RAM)
The RAM is a very important aspect for many web servers since almost every web server uses caching to save web pages and other data in it. That is because fetching data from the RAM is faster than fetching it from the hard disk. If you run a busy website, make sure you get enough RAM to accommodate the load.
B. Processor (CPU)
If you plan on hosting a not-so-busy website, the CPU should not be much of a concern when choosing your VPS hosting plan. If your website is not mostly static, involves a lot of database requests or completes other advanced calculations, make sure you get a VPS hosting plan with enough CPU cores to accommodate these needs. The same applies if your website is expected to receive a very big amount of views. You may even want to consider Dedicated Server Hosting in such case.
C. Storage (HDD)
The storage space is hardly a problem for VPS hosting, but it might be a challenge if you are hosting large files such as videos or a very large quantity of pictures. We strongly recommend considering a VPS with faster storage space (such as SSD based drives in RAID configuration) if you have a website that performs a lot of read/write operations or has to serve many images.
3. Fully-Managed VPS Hosting vs Unmanaged VPS Hosting
Managing servers is not simple. From security, to performance to even setting things up – it's not child's play.
A. Unmanaged or Self-Managed VPS Hosting
If you have past experience at managing servers and believe you do not need support for anything other than having the VPS up, running and connected to the internet – an unmanaged VPS hosting solution (aka self-managed) will allow you to save money and run the show yourself.
B. Fully-Managed VPS Hosting
If, however, you lack the experience required to complete these tasks or if you simply prefer to focus on your websites and business rather than having to manage your VPS – a fully-managed VPS hosting solution is the right solution for your needs.
Want to learn more about unmanaged hosting vs fully-managed hosting? Check out our page Fully Managed vs Unmanaged Hosting.
4. Location, Location, Location
Is your website an online business selling screen printed T-shirts in The Netherlands? That means most of your website visitors and users are from The Netherlands. In that case, getting a Netherlands VPS will translate to the lowest latency and best load times for your website.
Remember this general rule of thumb: The closer the user to your VPS, the faster the load times.
Now that you know what to look out for when searching for the right VPS Hosting plan for your business, the choice is much easier, isn't it?
Award-Winning Dedicated Servers
Please select the dedicated server type that best matches your needs:
NETHERLANDS DEDICATED SERVERS All of our dedicated servers are hosted in The Netherlands. Build the right dedicated server for your needs.


View All Servers ›
UNMETERED DEDICATED SERVERS Designed for high-bandwidth use cases. Experience truly unmetered premium bandwidth from 100 Mbps to 20+ Gbps.


View Unmetered Servers ›
MANAGED DEDICATED SERVERS Free up your time and focus on your business. Our 24x7 managed support will set up, secure, and optimize your server.


View Managed Servers ›