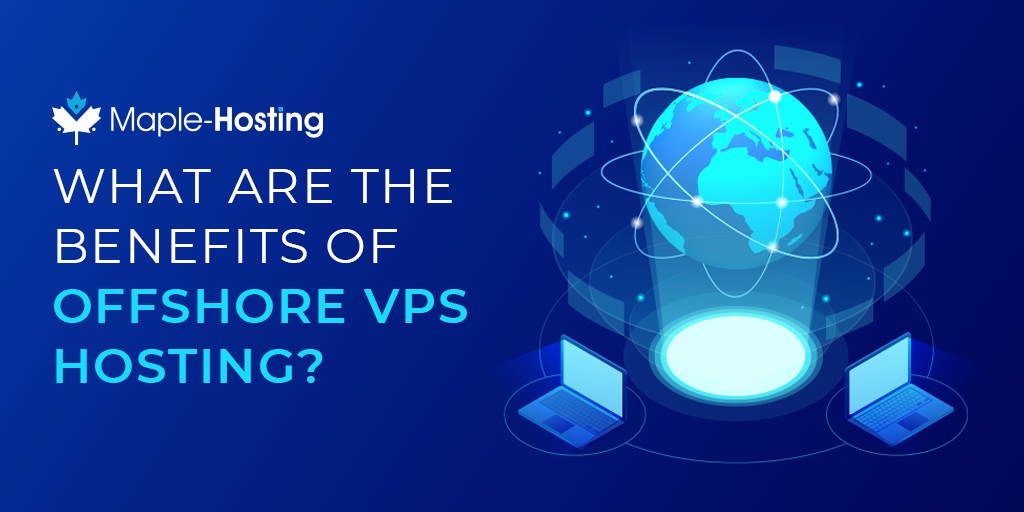 The United States almost ranks in the top ten countries in the world for the quality of its infrastructure but it just missed the list, ranking at number 11. Internet and communication networks are part of that infrastructure.
The quality and speed of the network connection are only some of the reasons to consider an offshore VPS. Let's look at several benefits of offshore hosting.
What is Offshore VPS Hosting?
An "offshore" server means the server is located in a different country than your business operates. For example, Maple-Hosting offers Netherlands-based VPS hosting plans to clients in over 20 countries around the world.
The better infrastructure in some countries, like the Netherlands, means higher-speed connections. It could even mean better uptime for your server. There are other less obvious benefits as well.
Potential Cost Savings
Sales tax and other local fees vary from one country to another. An offshore VPS can save money in some cases by having lower or no extra taxes or fees added to your monthly payment.
Some countries also have less government regulation of internet communications. Less regulation often results in cost savings to the hosting company. If your server is located in a country with a lot of regulation, it can increase the operating costs of the hosting company providing your server. Those increased costs will be passed along to you.
Freedom of Speech and Anonymity
One of the biggest offshore VPS benefits for some companies is freedom of speech and protection from government interference. Local laws dictate what kind of access the government has to your server and the information it contains. These laws won't always apply to an offshore server.
That's not to say it's immune from any local laws where your business operates, but if your server is located in the same country as your business, there could be more risk of being compelled to hand your data over to the government.
Well-known groups use offshore hosting for this reason. WikiLeaks, for example, has considered using offshore hosting in the past.
It's not only the government you should take into consideration. You also need to be careful that you're not vulnerable to unethical copyright claims through DMCA complaints.
DMCA Ignored Hosting
The Digital Millenium Copyright Act, or DMCA, is a United States copyright law that is also effective in the World International Property Organization (WIPO). Its intent is to protect copyright holders from theft and misuse of digital products like music or video but is set up in such a way that makes it easy to file false complaints.
If an unethical competitor or a client with an ax to grind wants to damage your business, they can file a DMCA complaint claiming you're infringing on their copyright in some way. Many hosting companies don't have the nerve to stand up to these complaints. They'll shut down your website with no investigation and you may or may not be able to convince them to change their mind.
Companies that offer DMCA ignored hosting don't simply react if they receive one of these complaints. Instead, they will review the claim to ensure that it's legitimate and not merely an attempt to damage your business.
It's not a "get out of jail free" card, mind you. If they promise to ignore all DMCA complaints, that's just as bad since it's illegal to ignore legitimate complaints. Maple-Hosting's DMCA ignored hosting does it right by reviewing any complaints we receive and ignoring any that don't offer enough evidence to support the claim.
DMCA ignored hosting isn't unique to offshore hosting companies but they often have stronger policies around DMCA complaints.
Reliability Can Be Better
Another potential advantage of offshore hosting is better reliability. On top of the better internet infrastructure in some countries, the quality of the electrical supply can also vary. The Netherlands, for example, ranks 7th in the world for the quality of its electrical supply, compared to the United States, which ranks 20th.
Maple-Hosting's data center, located in Rotterdam, can keep running for up to 72 hours if the power goes out. Between the better electrical supply and the 3-day power backup, your server will stay up and running when you host with us.
Some locations are more prone to natural disasters than others as well. If your server is somewhere that could be affected by flooding, storms, or anything else that could cause outages or even physical damage, you're putting your business and data at risk.
Better Website Performance
The internet is a worldwide network. When it comes to the performance of your website, the location of your business doesn't matter. What matters is the location of your customers. Having a server located closer to the visitors that are coming to your website can improve the load times for your site.
Data travels around the world in seconds but even a second or two difference in the time it takes for a web page to load can make the difference between a visitor staying on your site or clicking away to something else. Google's data shows that as page load time goes from 1 second to 3 seconds, the chance your visitor will click away increases by 32%. And going from 1 second to 5 seconds, the chance that visitor will click away increases by 90%.
A second or two can make a big difference to your bottom line.
Maple-Hosting's fully managed VPS and dedicated servers will provide faster performance to your European visitors while maintaining excellent performance for the rest of the world.
Choosing the Right Offshore Hosting
One of the challenges of dealing with offshore hosting companies can be the level of support you'll get. In some cases there could be language barriers, in others, it could be time zone challenges. Having all the benefits of an offshore VPS won't mean much if the hosting company's support isn't available when you have a problem.
Maple-Hosting's fully managed support operates 24 hours a day, 7 days a week. It doesn't matter if you're on the opposite side of the world, we'll be available to help during your working hours.
Whether you're looking for offshore VPS hosting or an offshore dedicated server, Maple-Hosting has you covered. If you're not sure what type of server you need, get in touch with us and we'll help you find the right plan for your business.
Award-Winning Dedicated Servers
Please select the dedicated server type that best matches your needs:
NETHERLANDS DEDICATED SERVERS All of our dedicated servers are hosted in The Netherlands. Build the right dedicated server for your needs.


View All Servers ›
UNMETERED DEDICATED SERVERS Designed for high-bandwidth use cases. Experience truly unmetered premium bandwidth from 100 Mbps to 20+ Gbps.


View Unmetered Servers ›
MANAGED DEDICATED SERVERS Free up your time and focus on your business. Our 24x7 managed support will set up, secure, and optimize your server.


View Managed Servers ›