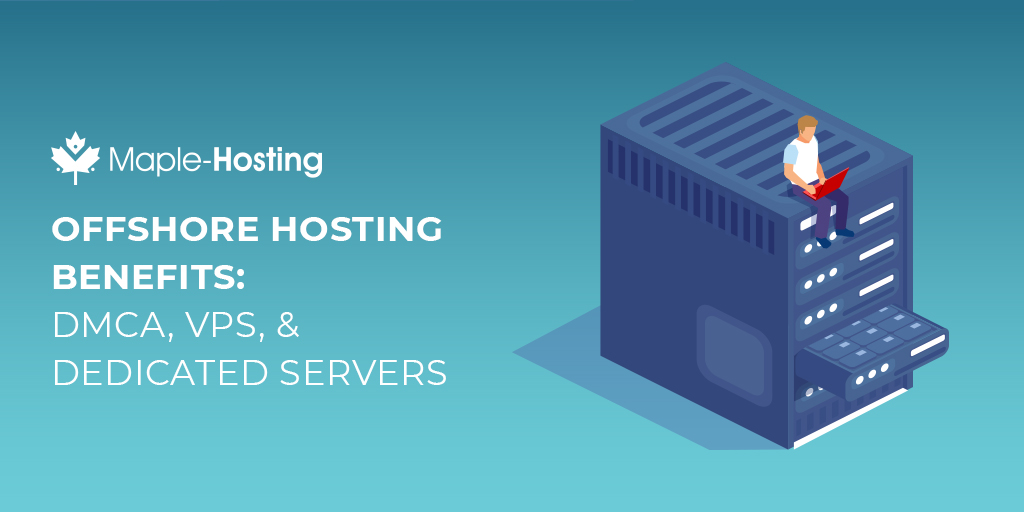 I've had several web hosting experiences over the last decade. Some good. Others bad. A few of them, ugly.
In this post, I'll share my journey on how I arrived at selecting an offshore dedicated server along with some offshore hosting benefits.
Offshore DMCA Ignored Hosting
It's not fun to receive this notice from a hosting company:
"Your hosting plan has been suspended due to a DMCA complaint."
The Digital Millennium Copyright Act (DMCA) is a United States copyright law that gives hosting companies in the United States the authority to shut down your website for the smallest of DMCA infractions. Suspensions happen from hosting companies so that they avoid legal issues by shutting down the "offending" content.
In essence, DMCA gives power to individuals to easily report false copyright infringement – which leaves you powerless against your hosting company. In my experience, 99.9% of US-based hosting companies won't check for proof that copyright infringement took place. As a result, you have many individuals who attack companies with illegitimate DMCA reports, which in turn, shuts down your website.
This happened to me once. I struggled to prove that I was the authorized copyright agent for the content. I spent a lot of hours sending over my articles of organization, screenshots, and even trying to track down the individual responsible for filing the DMCA complaint. It was all a waste of time. I don't ever want to have that happen again.
From my experience, offshore hosting companies are much more sincere about DMCA complaints and how they handle them. You still can't steal copyrighted material, but offshore companies can handle these issues without suspension or termination in accordance with a clear DMCA policy that addresses the way the company will handle DMCA and copyright complaints that do not carry sufficient proof.
A more sane DMCA policy is one reason to strongly consider offshore hosting.
Increase page load times for your target audience
I'm from the United States but want to serve up content and sell products to people in Europe. Because of the proximity of an offshore dedicated server to my target audience, selecting an offshore dedicated server versus a US-based dedicated server is a simple decision.
Hosting in the Netherlands allows my content to be accessed faster by my European audience. This means reducing my bounce rate due to slow load times, which translates to more sales and happier website visitors.
If the majority of your audience is in a locality outside of your home country, then getting a VPS or dedicated server in a region close to your customers makes a lot of sense.
Offshore Unmetered Dedicated Server
It's hard to find a reliable web hosting company in the United States that offers an unmetered dedicated server. Do a Google search, and you'll find a lot of odd domains claiming to offer this service.
That's because bandwidth is more expensive in the US than it is in The Netherlands so an unmetered bandwidth hosting plan costs hosting providers more.
I enjoy not having a set limitation on monthly bandwidth usage. I've been in situations before with hosting companies where you get the email:
Subject Line: Terms of Service Violation
"Your account has been using too much bandwidth resources as per our ToS and so it has been suspended."
After my third call with customer support and a lot of back and forth via emails to get the TOS violation lifted, I began to see the light with unmetered dedicated servers.
Not all hosting companies are as strict with bandwidth usage as "shutting you down" and citing their terms of service as the reason. Some hosting companies will still issue you a warning and offer to work with you to resolve the issue – or to upsell you on the next plan.
But, an unmetered dedicated server relieves all those worries. And, in my opinion, offshore hosting companies offer this service in a reliable way.
100% Uptime SLA Guarantee
One time I had 16 hours of consecutive downtime for a handful of client websites…while I was on vacation. It totally ruined my vibe (and luckily, not my marriage). Every 30 minutes I was back on the phone with customer support asking for an update. The downtime cost my clients a lot of business and set our marketing efforts back considerably.
What did our hosting company do to make it right? They relied on a policy saying that this downtime fit within their expectations, and didn't offer any refunds. Just left me and my clients out to dry. Not a great feeling.
It is welcoming to see hosting companies offshore offering a 100% uptime SLA guarantee. You certainly hope that you'll have 100% uptime, but with refunds of 1% per each 1 minute of downtime, you are comforted in knowing that there will be repercussions for the hosting company if they don't live up to the promise of their product. After all, that's the whole point of an SLA to begin with.
Speaking from my personal experience, US hosting companies have complex corporate policies that negatively impact customers. Venturing overseas to more customer-friendly policies is worth it to me.
In Conclusion
Those are four of my personal offshore hosting benefits. Ignored DMCA hosting policy, 100% Uptime SLA Guarantee, increased page load times for an offshore audience, more customer-friendly approach without having to deal with the corporate policies of bandwidth issues. There are several more, including the anonymity that comes with an offshore VPS, or Dedicated Server – but those are benefits for another blog post.
Brett Farmiloe is the CEO of a US-based digital marketing company that connects small businesses with customers…and has a good time doing it. He really doesn't like website downtime.
Award-Winning Dedicated Servers
Please select the dedicated server type that best matches your needs:
NETHERLANDS DEDICATED SERVERS All of our dedicated servers are hosted in The Netherlands. Build the right dedicated server for your needs.


View All Servers ›
UNMETERED DEDICATED SERVERS Designed for high-bandwidth use cases. Experience truly unmetered premium bandwidth from 100 Mbps to 20+ Gbps.


View Unmetered Servers ›
MANAGED DEDICATED SERVERS Free up your time and focus on your business. Our 24x7 managed support will set up, secure, and optimize your server.


View Managed Servers ›