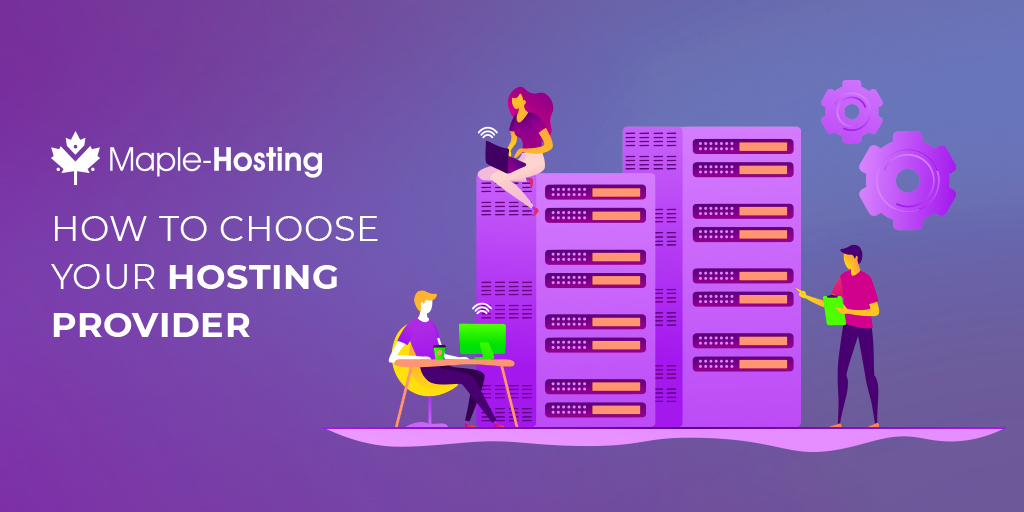 The best idea in the world is meaningless if you can't communicate it.
In our digital world, communication is synonymous with online access.
If you have an idea and you want others to know about it, then you need hosting you can trust. For many, this will mean having the features and customer service that comes with a fantastic web hosting company.
When you are in the process of choosing Web Hosting, keep the following things in mind:
Not All Web Hosting Services Are Created Equal
Hosting is like any other industry out there, you get what you pay for.
You will have a lot of options for shared hosting, VPS hosting, and dedicated servers, however, the same name doesn't mean the same quality. The quality of those services will change depending on who is providing them and how much you are willing to pay.

Just like when it comes to buying a car, you don't always want to go for the least expensive car in the lot. Rather, you want to find a service that perfectly matches your hosting needs.
In addition, having options to broaden or shrink your coverage based on need will keep you paying only for what you use. Taking time to identify the right company will help you out significantly in the long-term.
Uptime Guarantees Are Very Important
Your ideas or products cannot be examined if they cannot be seen. When choosing web hosting, keep in mind that uptime is extremely important.
Uptime has to do with the amount of time the servers are up and available for people to click on. Limiting downtime will increase the chance of people accessing your website.
Whether you are using shared, VPS, or dedicated hosting, make sure you choose a hosting provider that guarantees over 99.999% uptime or else you may end up paying for a service that is regularly unavailable.
Read Reviews To Ensure Responsive & Helpful Customer Support
Having responsive and helpful customer support means that your issues will be addressed sooner.
When issues include having limitations to the accessibility and availability of your content, having someone get back to you and solve your problems quickly is crucial to your business.

We'll say it again, choosing a web hosting company based on customer support is critical, and the best way to know if a provider has great customer support is by examining that provider's customer reviews.
With shared hosting, VPS hosting, and even dedicated servers, customer support will go a long way to smoothing out the process of hosting your content.
There is No Correlation Between Size & Quality
Yes, we are still talking about hosting here.
It is often assumed that larger web hosting companies are better capable of providing superior services. This is not always the case.
While they may be able to offer you a better deal on rates, they will often offer you less options with shared hosting and VPS hosting.
In addition, customer support will, on average, be worse with the much larger companies.
Medium-sized companies (not the biggest players but also not the brand new ones) on the other hand have an incentive to hold on to every customer and provide a superior level of service as a result.
At the same time, very small companies may not be able to provide every service you are looking for and may not have the resources needed to provide you with the level of support you require.
Choosing web hosting companies located somewhere in between (in terms of size) can mean getting the perfect solution and price for your needs.
Identity & Branding Say A Lot
When choosing web hosting companies, take a moment to review how the company self identifies.
Do they take a lot of pride in showing off a brand that is sleek, streamlined, and easy to navigate? Do they work to provide superior level services and then promote those services?
While two hosting companies can have the same services for the same price on paper, the experience can be dramatically different depending on how the hosting company identifies their brand.
A lot of this comes down to a hosting company's approach towards their clients and server space. For example, companies that prioritize space and the experience for their customers will be able to react much quicker to the needs of their clientele.
Regardless of whether or not they deal with dedicated servers, VPS hosting or shared hosting, a company that is willing to go the extra mile for you is one worth holding on to (yes, even if they cost a little more and yes, we may be talking about ourselves, among other great providers to consider).
Choosing Web Hosting Companies – The Right Way
As you can see in the above guide, there is a lot to consider when choosing web hosting.
Along with the type of hosting you want (dedicated servers, shared hosting, VPS hosting, etc.), there is also the overall quality of the company.
As you will be relying on their professionalism to maintain the servers and guarantee uptime, finding the right company for your needs is a very big decision that cannot be taken lightly.
That is why we work hard to provide you with the information you need to make an informed choice.
Considering us as your hosting provider? Send us a message and your personal agent will get back to you very shortly.
Award-Winning Dedicated Servers
Please select the dedicated server type that best matches your needs:
NETHERLANDS DEDICATED SERVERS All of our dedicated servers are hosted in The Netherlands. Build the right dedicated server for your needs.


View All Servers ›
UNMETERED DEDICATED SERVERS Designed for high-bandwidth use cases. Experience truly unmetered premium bandwidth from 100 Mbps to 20+ Gbps.


View Unmetered Servers ›
MANAGED DEDICATED SERVERS Free up your time and focus on your business. Our 24x7 managed support will set up, secure, and optimize your server.


View Managed Servers ›