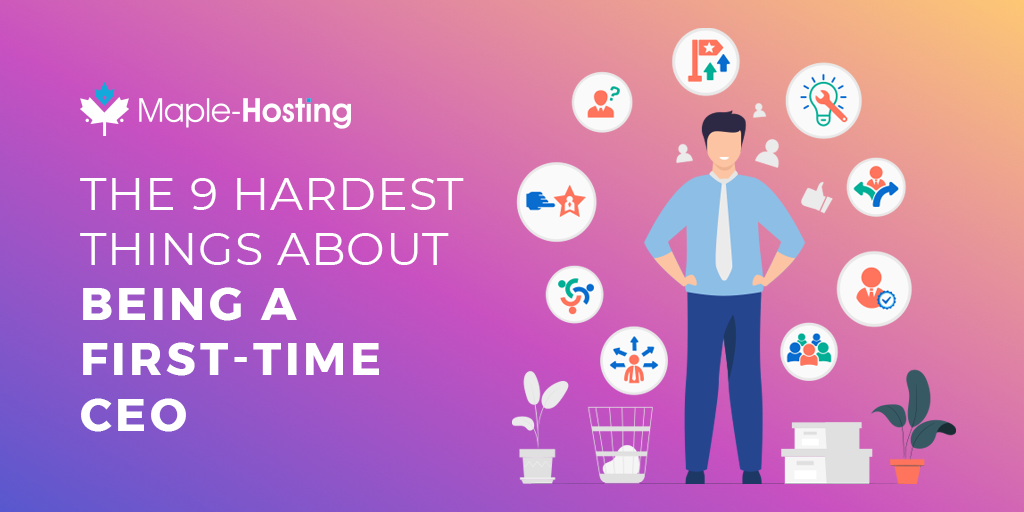 CEOs are the highest-ranking professional in a business, overseeing a multitude of managerial decisions.
The chief executive officer is ideally a professional with years of cumulative experience—each step gradually preparing them to take on this leadership role. Despite this experience, taking on the responsibility as CEO presents its challenges, especially if you're a first-time CEO.
Learn from nine business leaders about the most challenging aspects of being a first-time CEO to navigate your responsibilities as head honcho.
Tackling Self Doubt
Delegating Responsibility
Maintaining Culture
Outsourcing Roles
Creating A Team
Proving Yourself
Making Impactful Decisions
Resolving Company Issues
Prioritizing Aspects Of The Business
---
Tackling Self Doubt
The hardest thing about being a first-time CEO is avoiding the negative voice in your head. I think a lot of the time we question and second guess ourselves when we should be confident in our decisions. Don't be afraid to make a mistake because everyone does! The important thing is that you take action and learn from the bumps in the road.
Vanessa Molica, The Lash Professional
Delegating Responsibility
First-time CEOs are often the founder of a company. As a founder, you have experience doing virtually every job at a company, from client service to the creation of an actual product or service. The hardest thing for a founder to do as they graduate to a CEO position is to let go of responsibilities and get out of the way. There's always the temptation to jump back in because "you can do it better" or "this issue needs to be fixed right now." However, for a company to grow, a founder needs to let go and spend their time doing CEO things like coming up with new ideas, managing meaningful relationships, and selling the big deals that create new opportunities for the company.
Brett Farmiloe, Markitors
Maintaining Culture
Communication and culture. Entrepreneurs are understandably focused on increasing sales and may not think about the company's culture and the need for open, honest communication. Research shows that a positive workplace culture in which employees feel engaged and appreciated can increase productivity, improve customer experience and reduce workplace stress, employee absenteeism, and turnover.
Andrew Rawson, Traliant
Outsourcing Roles
While it is often a good idea to hire and develop your own staff, it is often very expensive. One of the easiest ways to reduce your recurring overhead cost is to outsource your staffing functions. This is especially something important to consider for restaurants and other businesses within the hospitality industry, which is often seasonal.
Zack McCarty, Qwick
Creating A Team
You are in charge of creating the team that will assist you in moving the company forward. You have to choose the qualified individuals and the people who are going to stand by you through the good days and the bad days. Because you are creating the team, you are also building the company culture. Hire people who will make that culture an inclusive and safe place for employees.
Olivia Young, Conscious Items
Proving Yourself
When you're starting out, you have to show that you have the skills and qualifications to handle such a position to those more experienced who doubt you. You're also trying to earn the respect of your employees. As difficult as it is, it's rewarding when things do work out, and you see your hard work pay off.
Guy Bar, Hyfit
Making Impactful Decisions
As a first-time CEO, you are going to be making decisions that impact the company as a whole. You need to make sure you are evaluating your choices and doing your research to make the best decision possible. That said, there are going to be times when the decision you make is not going to be the most popular one or the easiest one. In that case, you need to stand by it.
Derin Oyekan, Reel Paper
Resolving Company Issues
Being an employee is fairly easy and trouble-free. You pretty much have your assignments and work on these. If you get stuck or need anything, you try to resolve it and report it to your supervisor. Simple as that. Once you switch to c-level management, you are the person that needs to resolve all the issues employees haven't managed to resolve. The problems come to you. At the very top of the problem chain with the hardest issues sits the CEO. He or she constantly gets all the issues everyone else in the company failed to solve. You are, in a sense, constantly fire fighting. Learning how to manage this and staying positive about your job is a very hard ask for a first-time CEO.
Edward Briggs, Home Reviews
Prioritizing Aspects Of The Business
At the start of the company, so many items require clarification from the vision, the messaging, the product, pricing, and delivery. It can feel like every company decision is dependent on each other and ultimately the CEO. To prioritize, clarify your ideal customer persona(s), define your sales messaging, and package your product. By focusing on those business priorities, you will invest the right time to drive and grow your business.
Mark Jamnik, Enjoy Life Daily
Award-Winning Dedicated Servers
Please select the dedicated server type that best matches your needs:
NETHERLANDS DEDICATED SERVERS All of our dedicated servers are hosted in The Netherlands. Build the right dedicated server for your needs.


View All Servers ›
UNMETERED DEDICATED SERVERS Designed for high-bandwidth use cases. Experience truly unmetered premium bandwidth from 100 Mbps to 20+ Gbps.


View Unmetered Servers ›
MANAGED DEDICATED SERVERS Free up your time and focus on your business. Our 24x7 managed support will set up, secure, and optimize your server.


View Managed Servers ›