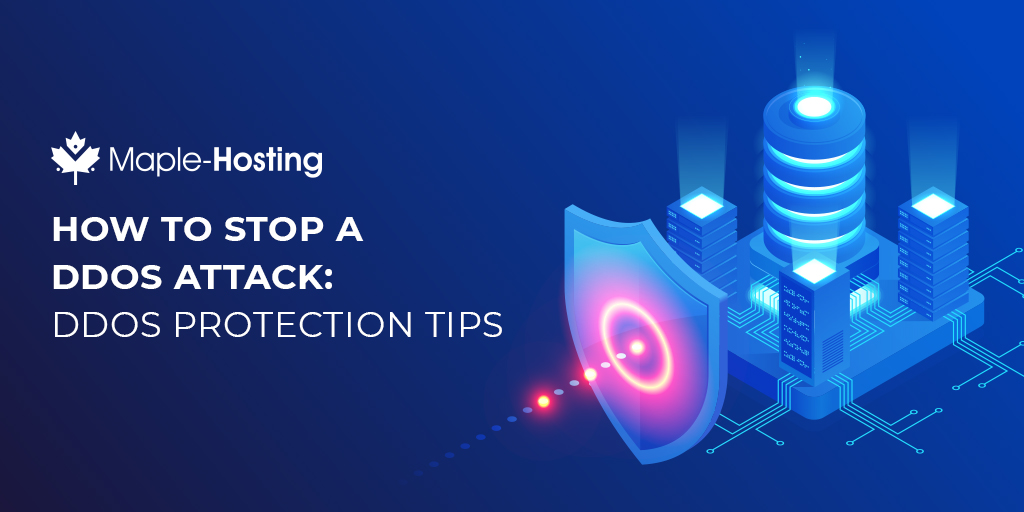 What is guaranteed DDoS protection and why it is the single, most important tool, required in order to stop DDoS attacks in their tracks?
Doing business online can be scary, with a wide variety of issues that can pop up at any time to make operating your business a nightmare.
On the internal side, equipment malfunctions, or employee errors, can cause you to lose data or make costly mistakes on a customer's order.
On the external side, hackers and other nefarious characters can steal your precious, proprietary information to exploit both you and your clients.
Sometimes, the goal is simply to destroy your business or make it impossible for customers to connect to you. Chances are, if this is what your attacker is after, you will need Guaranteed DDoS protection to keep you safe.
What is a DDoS attack?
Before we can discuss DDoS protection, we must first discuss what it is we are protecting from.
The goal of a DDoS attack (Distributed Denial of Service) is a shutdown of access to your website and applications.
Think of it sort of like owning a real-world store, and having a crowd of paid agitators pour in and make it impossible for actual customers to shop, or even get in the door. These unwanted interlopers may also decide to trash as much of your building and products as they can, making it necessary to close down shop until repairs are made.
While the situations may be similar, this can be even more devastating in the online arena.
In the real world, the police can be called in to disperse the agitators, allowing waiting customers to enter and purchase what they need in relatively short order. Insurance companies also stand by to make sure you do not have to shoulder the financial burden of damage done alone. None of these assets are available to an online presence. In addition, the technical nature of fixing things is a horror for the average business owner.
DDoS Attacks Are A Constant Threat
What's worse is that a DDoS attack can strike at any time of the day or night. Most brick-and-mortar establishments are open during the day and part of the evening, with staff always present to catch any problems as soon as they occur.
While the constant presence of an online business is a boon in many ways, it can also mean that a DDoS attack can cripple your operation for quite a while before you even know something is awry.
The internet is vastly competitive, and if a customer is unable to access your site even for a short while, they may move on to the next competitor that carries the same goods or services. Worse still, the damage that a DDoS attack can do can leave you crippled for days.
What is DDoS Protection?
DDoS protection is similar to hiring a guard to stand watch over the entrance to your business. This paid professional makes sure things stay as orderly as possible. Gangs of hooligans can be denied entry, making the number of people admitted well within the capacity that your business can handle.
DDoS protection can be much more effective than even the most watchful and stalwart of guards could do out in the real world. Much of the protection is handled automatically, with a constant and even level of protection round the clock. This ensures that no attacks will sneak in unawares, regardless of the time of day or night.
Each Type Of Attack Is Stopped. Guaranteed.
More importantly, however, is that the right DDoS protection can be tailor made to thwart the different kinds of DDoS attacks that may come your way. Not all DDoS attacks are the same, some of which require a different approach or angle of protection than others.
This would be similar to instead of just hiring one guard to do everything, you go with a company that provides two or more guards, each with their own specific function. Perhaps one is placed at the door, ready and capable of keeping it clear and unblocked. Another is positioned in the store, to prevent any interlopers from harassing the sales person to the point where they are unable to service your actual customers. These two protectors' sole focus is their separate tasks, and they are trained to be consummate professionals in executing them specifically.
With DDoS Protection, this translates into providing the safeguards and solutions that you need for your situation and setup specifically. No matter which type of DDoS attack comes your way, the solution given will be the one most capable of dealing with it to an exacting degree. The right company will tailor your protection based on experienced attacks, so the exact approach that is needed is performed each time.
Why Guaranteed DDoS Protection?
If you had the choice between hiring a guardian that could guarantee the safety of your shop or one that has no such promise, it would be an extremely easy one to make. In this case, the guarantee means that every single attack made against you is filtered, meaning it does not reach your website and does not cause any negative impact on your ability to do business whatsoever. If by some bizarre reason one does slip past, you will receive your money back. This is a guarantee with teeth, one that is backed up without fail every single time, not just the vague assurance usually meted out by most companies.
Reimbursement aside, the fact that the provider of your DDoS protection knows that they can protect you inspires confidence. It only makes sense to go with an online provider that can also instill that same peace of mind, and protect you no matter what comes your way.
The Maple-Hosting Guaranteed DDoS Solution
While there are admittedly hundreds, if not thousands, of different solutions and companies to choose from to help protect you from DDoS attacks, most pale in comparison to what you get with Maple-Hosting.
Why, you may ask? The chief reason is that we are easily able to offer that guarantee lacking in so many of our competitors.
Unlike the competition, we KNOW we can keep you covered. Once we complete a short "getting to know your DDoS protection needs" period, we will understand exactly how to protect your unique setup most effectively. This process makes offering a guarantee like this one, something we can easily do with full confidence.
We also offer Guaranteed DDoS Protection from all types of DDoS attacks, another quality that is sadly lacking in most of the industry. Most hosting companies out there are well aware that they can only protect you from certain kinds of DDoS incursions. However, they will still refuse to return your money, or compensate you in any way, when their service inevitably comes up short.
Not sure which DDoS Protection plan is right for you? Contact us – we love to help. 🙂
How much is it going to cost me?
Another primary advantage you will enjoy with Maple-Hosting is our competitive DDoS protection rates. Our prices are some of the most competitive in the industry, to begin with. Whether you need DDoS Protected Dedicated Servers or DDoS Protected VPS Hosting, it would be a chore indeed to find more competitive pricing than what we offer. We understand the cost structures that come with operating a business, even one based totally online. Our goal is to offer the best Guaranteed DDoS Protection in the industry, as inexpensively as possible.
We Are Here To Help!
If you are operating a business online, and do not have the best DDoS Protection in place, it is only a matter of time before this frightening prospect becomes a reality. Contacting Maple-Hosting today can go a long way towards granting you the peace of mind that comes from being guaranteed that your online business presence is safe and in good hands.
Award-Winning Dedicated Servers
Please select the dedicated server type that best matches your needs:
NETHERLANDS DEDICATED SERVERS All of our dedicated servers are hosted in The Netherlands. Build the right dedicated server for your needs.


View All Servers ›
UNMETERED DEDICATED SERVERS Designed for high-bandwidth use cases. Experience truly unmetered premium bandwidth from 100 Mbps to 20+ Gbps.


View Unmetered Servers ›
MANAGED DEDICATED SERVERS Free up your time and focus on your business. Our 24x7 managed support will set up, secure, and optimize your server.


View Managed Servers ›