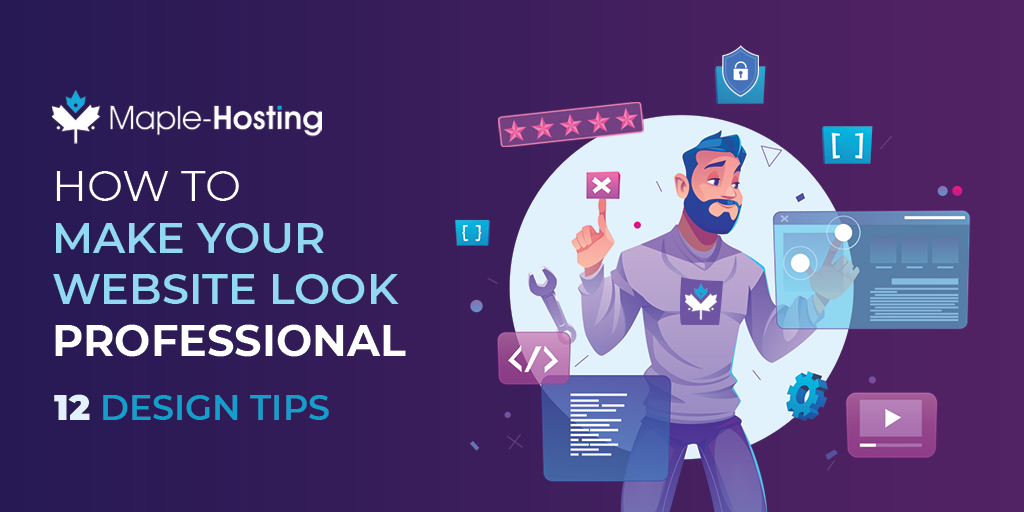 What is one tip for making your website look more professional?
To help business owners build a polished website, we asked web designers and business leaders this question for their best insights. From optimizing for mobile users to utilizing color theory in design, there are several ways that may help you create a well-executed website for your business.
Here are 12 design tips to help you make your website look professional:
Take High-Quality Photos
Create Cross-Platform Consistency
Optimize and Compress Images
Use a Customized Font
Curate Copy and Publications
Optimize for Mobile Users
Invest in a Custom Domain
Go for Simplicity in Design
Show off Customer Reviews
Keep Consistent with Image and Icons
Secure Your Website with SSL
Ultize Color Theory in Design
---
Take High-Quality Photos
As a veneer stone system design company, we prioritize using high-quality images on our website that showcase our products. With their unmatched aesthetics, our Be.On Stone manufactured stone systems are available in 11 styles. We want to capture each style's unique characteristics for potential customers. Our professional, eye-catching images feature our stone system's variety of natural colors and texture in the product imagery and inspiration gallery.
Todd Sriro, Be.On Stone
Create Cross-Platform Consistency
Shopping online is more relied upon than ever because of COVID. That's why we redesigned our website to be both mobile and desktop-friendly. This increases our professionalism as we aim to foster a user-friendly environment for our customers. Mobile optimization can also boost sales with more accessibility for those who prefer to shop on the go. Consistency builds trust as it communicates reliability, which customers need, and signals that the brand is stable and trustworthy.
Stephanie Schull, Kegelbell
Optimize and Compress Images
To make the most of the beautiful images on your website, make sure that they load quickly. This can be achieved by resizing and compressing images before adding them to a page or blog post. In addition, utilizing an image optimization plugin will ensure quick loading times for your images.
Danielle Ganon, Markitors
Use a Customized Font
There are many criteria that make a site look professional, but probably the most important aspect you can control as a developer is the font you're using for typography. It's the kind of subtle change that goes unobserved by many, but it affects visitors at a subconscious level. They can "feel" the website is a professional-looking one without knowing what exactly sets it apart. Other important aspects are the use of white space, color palette, and imagery, but typography remains the most important tool.
Ionut-Alexandru Popa, binaryfork_
Curate Copy and Publications
One thing to make your website look more professional is to provide press callouts on your home page. Specifically, be sure to have transparent logos of the most buzz-worthy publications that have featured you on site. If you are just beginning in the ecommerce space, this will immediately provide validation to your prospective customer and allow them to more easily trust you.
Lori Price, PixieLane
Optimize for Mobile Users
One tip that can make your website look more professional is to make sure your website is mobile-friendly. Nothing is worse than a website that fails to work on a mobile device. More people are using cell phones and making purchases on them than ever before. Your customers should have the opportunity to take full advantage of the offerings on your website, no matter what kind of device they are using. Make sure your website is as mobile-friendly as possible, so you can also use it as an effective tool for awareness and reach. By doing so, you will experience significant traction.
George Fraguio, Vaster Capital
Invest in a Custom Domain
Using a custom domain and email address is the best way to make a more professional-looking website. For example, the website address "domainname.com" appears more professional than if we used "domainname.wordpress.com," which is a bit unprofessional. It is the same case with email addresses. They look more professional with a domain name, such as "[email protected]," instead of the typical "[email protected]." By purchasing a domain at GoDaddy and paying annually, we keep a more professional website.
Katherine Brown, Spyic
Go for Simplicity in Design
Simplicity goes a long way. Cluttered web pages can be very off-putting to new visitors, so the safest route is choosing a design that's minimal yet elegant. Having a clear and legible font, choosing a limited color palette, and making use of negative space to draw attention to the right places are a few ways you can set your website up for success.
Riley Beam, Douglas R. Beam, P.A.
Show Off Customer Reviews
It is very important to have reviews on your site. This makes you and your business verified in the eyes of customers. Provide links back to where the review was left, so people are able to find its credibility. The more you have, the better your site is.
Eric Gist, Awesome OS
Keep Consistent Images and Icons
Icons are an essential part of a website's design. The shape, color, and style of your icons are important for the overall design. For example, if your website uses a lot of square images, you'll want to use square Facebook, Twitter, or other social media icons in order to achieve a professional look.
Randi Shinder, SBLA
Secure Your Website With SSL
Website security isn't something that should be taken lightly, and it can radically impact the credibility of any website, no matter how great it looks. Furthermore, search engines will flag websites that aren't secure with a "Not Safe" warning before loading the webpage. To prevent a security breach, ensure that your website is safe both for yourself and your visitors by investing in an SSL certificate.
Phillipp Zeiske, Zeitholz Watches
Utilize Color Theory in Design
A consistent color palette goes a long way to make a website look professional and organized. Color is also a great way to convey emotions like trust or excitement that will encourage users to stay on your site, engage with your content, and make a purchase.
Wesley Jacobs, Apollo Medical Travel
Looking for Dedicated Server Hosting for Your Websites?
We've been helping clients grow and improve their online businesses since 2008. We offer multiple dedicated server types:
Managed Dedicated Servers with cPanel: With 24×7 Managed Support designed to help you get set up, create backups, install software, optimize your web server, and more.
Unmetered Dedicated Servers: Featuring truly unmetered ports to help you deal with as much web traffic as your business gets without having to pay for more bandwidth or unexpected bills.
Customize and order your server today and please contact us if you need any assistance!
Award-Winning Dedicated Servers
Please select the dedicated server type that best matches your needs:
NETHERLANDS DEDICATED SERVERS All of our dedicated servers are hosted in The Netherlands. Build the right dedicated server for your needs.


View All Servers ›
UNMETERED DEDICATED SERVERS Designed for high-bandwidth use cases. Experience truly unmetered premium bandwidth from 100 Mbps to 20+ Gbps.


View Unmetered Servers ›
MANAGED DEDICATED SERVERS Free up your time and focus on your business. Our 24x7 managed support will set up, secure, and optimize your server.


View Managed Servers ›