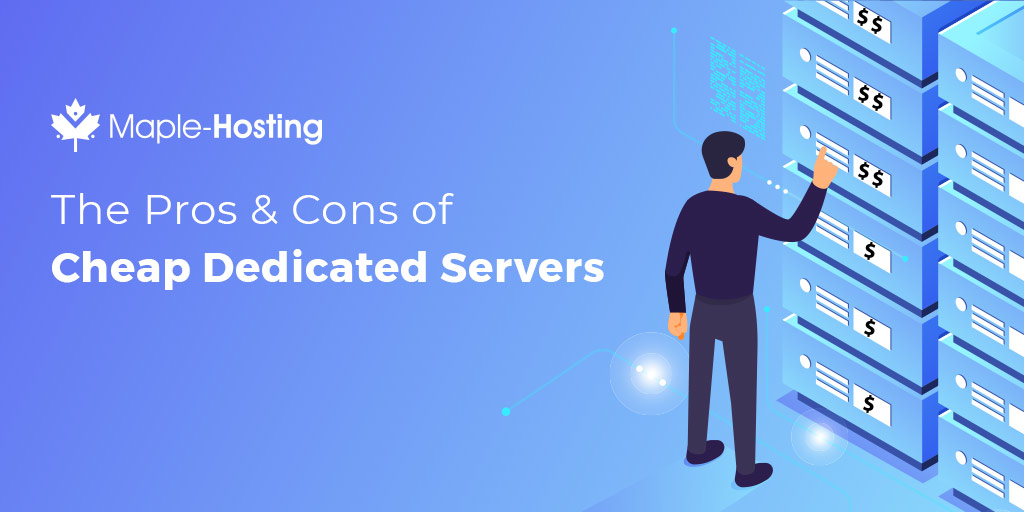 The web hosting industry got its start in 1969 with only 4 hosts to choose from. Over the next 50 years, that number grew to 126 million hosts, with more coming online all the time. With a market that large, you can expect a wide range of pricing options.
If you're looking for cheap dedicated servers, read on to learn the pros and cons of that end of the server spectrum.
Are Dedicated Servers Worth It?
When you're looking for a web server, you've got a few options to choose from, including:
Shared hosting
VPS (virtual private server) hosting
Cloud hosting
Dedicated servers
Of all those options, dedicated servers often carry the highest price tags, even at the low end of the market. This is because a dedicated server, as the name implies, is dedicated to you and you alone. It's a physical server that is dedicated to you and your needs.
Remember, a server is simply a computer that's designed to run 24×7. So a dedicated server is in fact a computer that's designed to run 24 hours a day, 7 days a week, and serves a dedicated purpose.
Making the right choice now can help your business succeed later.
Types of Dedicated Servers Hosting Providers
As with most services, in the hosting industry, you often get what you pay for.
Generally speaking, there are two categories that dedicated server hosting providers can fall into:
Budget Providers
A budget dedicated server hosting provider is a type of hosting provider that focuses on offering the cheapest dedicated servers in the industry. They attempt to stand out in the industry simply by being the cheapest or most affordable option.
These cheap hosting providers will often offer fewer features than the competition in order to keep their costs low. Opting for lower quality network, hardware, and support translates to cost savings that can then be passed on to the client.
Dedicated Servers offered by budget providers are often priced as low as $50 – $150 per month. They often use terms like "affordable" or "cheap" as their main selling point.
You may be thinking "I have a limited budget so that must mean I need a budget provider."
In order to make sure that a budget provider is right for you, ask yourself these questions:
If my dedicated server were to go offline for a few hours or a few days, would that have a severe negative impact on my business?
If something went wrong, would it be a major problem if the support team took more than 12 hours to reply to your support ticket?
Do I need excellent network performance in order to satisfy my business needs?
Do I need help managing my server fully and completely?
If you answered Yes to at least 2 of these questions, a budget provider is probably not the right choice for you.
Quality Providers
A quality dedicated server hosting provider aims to deliver the best value to clients while keeping quality high. A quality provider will make significant investments in order to deliver a high-quality hosting experience to customers while keeping prices competitive when compared with other quality hosting providers.
Dedicated Servers offered by quality hosting providers are often priced in the range of $100 – $300 per month.
"But how do I know if a provider is a budget provider or a standard provider" – you may ask.
Here are some questions to ask potential providers:
Does your uptime SLA include monetary compensation for downtime?
Is your uptime SLA at least 99.99%?
If something goes wrong with my server, can I reliably expect a support reply within 60 minutes or less?
Do you have customer reviews that reflect many happy customers?
If they answered Yes to at least 3 of these questions, they are likely to be standard providers that focus on quality rather than being the cheapest option.
For most purposes and most people, a quality hosting provider is the way to go as it offers the perfect combination of high quality and low price.
Important Consideration for Dedicated Server Costs
When you buy a new computer or a smartphone, are you searching for the cheapest one and buy it right away? Chances are, your goal would be to get the best value, not the lowest price.
When comparing dedicated server costs, price shouldn't be the deciding factor. There are several other things you need to consider to determine whether you're really saving money when you look at a budget provider.
Hardware Quality
A server is a specialized type of computer, but at its core, it's not that different than the PC sitting on your desk. Technology changes rapidly in the server industry as well — the processing power, storage space, memory, and other components constantly improve.
Similarly, your smartphone from 5 years ago seems ancient compared to the brand new one that just hit the market.
Many budget dedicated server providers use older hardware with less capable processors, slower storage, and other technologies that can't compete with newer models. They often use lower-cost hardware as well, which may not be as reliable under the strain of running 24×7.
Network Performance
Quality dedicated server hosting providers use data centers optimized for high-bandwidth usage that ensures your server won't suffer from lags, buffering, or congestion on the network. For example, Maple-Hosting's data center is a state-of-the-art Tier 3 installation with a high-performance network, 24×7 monitoring and security, and redundant systems to ensure your server stays up and running.
Cheap dedicated server providers typically don't offer the same level of redundancy, so your server could be affected by power outages and other events. And the network backbone likely isn't as good so your server's performance can suffer.
If you're using your server for internal purposes, slow performance is bad enough but if you're running your website on it, poor performance could result in lost business.
Studies show visitors leave a website within 15 seconds if they don't find what they need right away. A slow server can virtually guarantee that they won't find it.
Uptime SLA
Uptime is the percentage of time that your server is online and available. It's measured in percentages, such as 99%.
Cheap dedicated servers with budget providers may offer an uptime SLA (service level agreement) of somewhere in the range of 99%. That sounds like your server would be working nearly all the time at first glance but when you look at the actual numbers, you'll see a different story.
Looking at it from the perspective of a year, that's 525,600 minutes. If your server is working properly 99% of the time, that's 520,344 minutes.
In other words, your server could be down for 256 minutes, or more than 4 hours, over the year. How much revenue could you lose if a potential customer tries to visit your website during one of those downtimes? Probably a lot more than you're saving by choosing a budget server.
Maple-Hosting offers a 100% uptime SLA guarantee so you can be sure your server is working and accessible no matter when a customer tries to visit your site.
Support
There are two types of support for dedicated servers – managed and unmanaged.
With a managed server, the provider takes care of most of the maintenance and support tasks necessary to keep a server running properly. With an unmanaged server, those tasks are up to you.
If you're tech-savvy and understand how to do things like run shell commands, harden the server's security, and install updates for the operating system and other software, an unmanaged server might be the right choice.
But if you don't know how to do those things or don't want to spend your valuable time on them, working with a quality provider that provides fully managed support is the best choice.
What Kind of Neighbors Will You Have?
The last factor to consider is what type of neighbors you'll have.
Choosing a dedicated server is a bit like choosing a neighborhood to live in. You might be a fine, law-abiding citizen but if you move into an area full of crooks and scammers, people will look at you that way too.
If your server is in a data center that's home to spammers, hackers, and other unsavory internet "citizens" your website can end up on blacklists alongside them.
Budget providers tend to attract those types of rogue customers. They're often looking for the lowest possible price because they use a "churn and burn" strategy. They run their scam from a cheap server until it gets blacklisted then move on to the next one.
Working with a quality provider like Maple-Hosting ensures your server is in a reputable neighborhood and won't get blocked by Google or other services.
What Will Cheap Dedicated Servers Really Cost?
As you can see, there's more to choosing a server than just the price.
You might save a bit of money every month by choosing a cheap dedicated server but you'll usually end up spending more in the long run. If you have to pay someone to maintain your server or lose business because of poor performance, those cost savings won't go very far.
Choose an Affordable, High-Quality Dedicated Server
Instead of looking for cheap dedicated servers, look for the best value for your money. Maple-Hosting offers a range of affordable dedicated servers that can meet any need while providing expert, responsive support.
Use our server recommendation wizard to find the perfect dedicated server or get in touch with us today to discuss your needs.
Award-Winning Dedicated Servers
Please select the dedicated server type that best matches your needs:
NETHERLANDS DEDICATED SERVERS All of our dedicated servers are hosted in The Netherlands. Build the right dedicated server for your needs.


View All Servers ›
UNMETERED DEDICATED SERVERS Designed for high-bandwidth use cases. Experience truly unmetered premium bandwidth from 100 Mbps to 20+ Gbps.


View Unmetered Servers ›
MANAGED DEDICATED SERVERS Free up your time and focus on your business. Our 24x7 managed support will set up, secure, and optimize your server.


View Managed Servers ›