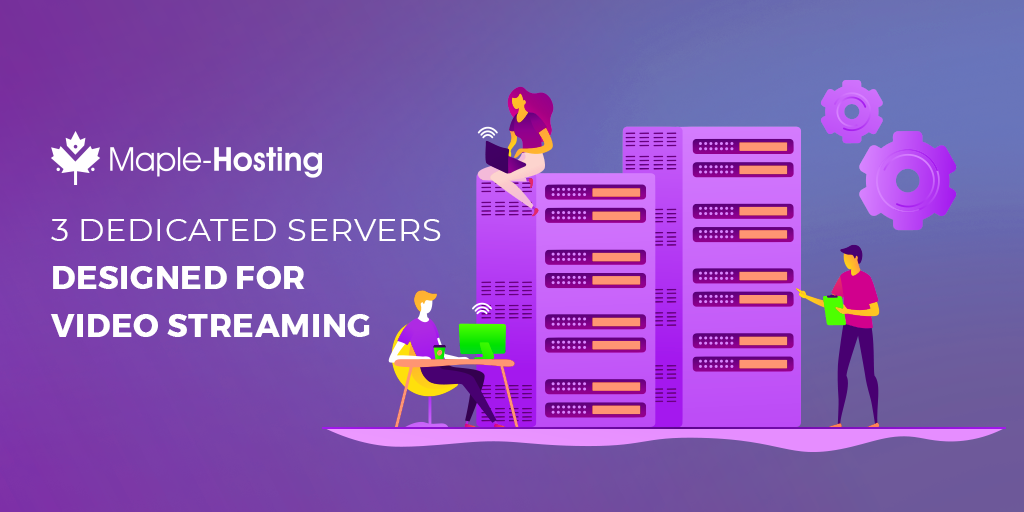 The popularity of video streaming has been growing for several years but 2020 saw nearly 100 percent growth in the hours watched compared to 2019.
If you're planning to add your video stream to the mix, one of the most important decisions you'll make is choosing the right streaming dedicated servers. Let's look at how these servers work and how to choose the right one for your needs.
Important Factors for a Streaming Dedicated Server
Streaming content of any type needs a reliable server but video streaming is one of the most demanding applications for a web server. Video streams transfer a large amount of data and the more viewers you have, the higher those demands.
Server bandwidth is one of the important considerations when choosing your server. There are two components to bandwidth — data transfer and port size.
Data Transfer
Data transfer refers to the amount of information your server can send and receive every month. This can be either metered or unmetered.
With a metered server, the plan includes a certain amount of data transfer. If you exceed that limit, you could face some hefty overage charges.
With an unmetered server, the only limit to how much data the server can transfer each month is determined by the bandwidth port size you purchase.
Port Size
Port size refers to the size of the server's connection to the internet, measured in gigabits. Having a higher gigabit port means the server can transfer more information concurrently.
Think of it as being similar to a water pipe. A narrow diameter pipe can transfer the same amount of water as a large diameter pipe but it will take longer for it to get through.
A server with a higher bandwidth port can transfer more data at the same time than a smaller port, which means your viewers will get a more consistent quality stream.
How to Choose the Right Video Streaming Server for Your Needs
Before settling on a server, calculate how much bandwidth you need by estimating how many concurrent viewers you'll have and multiplying that number by the stream rate of your video.
Concurrent means at the same time. If you have 100 viewers over the day but only a handful at any given time, you don't need as much bandwidth as you do if 100 viewers are watching at once.
For example, if you're streaming at HD 1080 resolution, the stream rate will be between 4000 kps and 8000 kps. If you have 1000 concurrent viewers, you can calculate your bandwidth requirements like this:
1000 users X 4000 kps stream rate = 4,000,000
In this example, you would need a server with a 4 Gigabit port to maintain a reliable stream to all 1000 viewers.
You can use our server recommendation wizard to help you find the right server configuration for your needs.
Other Server Specifications
When choosing a dedicated server, you'll see some similar components to what you would see when buying a personal computer, including:
Similar to bandwidth, the processor and RAM have a bearing on how many concurrent streams your server will support. A faster CPU with more cores will support more streams as will more RAM.
Storage is important if you archive your video streams so people can watch the recordings later. Video takes up a lot of space so you need a lot more storage for archives than you do if you only stream live.
Over the years, we've written a number of articles to help make choosing the right server easier. Here are a few of the most helpful ones for setting up a video streaming server:
Top 3 Dedicated Streaming Server Options
Maple-Hosting offers dedicated servers that are perfect for video streaming whether you're just starting to build an audience or you already have a big fan base.
Here are three of our most popular server options.
1. True-Unmetered Xeon E3-1246v3
One of our best-selling servers, this is the go-to option for new streamers or streamers who don't need to serve a large number of concurrent streams. Most clients start with a True-Unmetered 1 Gbps power which can support between 500 and 600 concurrent streams of low-to-medium quality video or between 200 and 300 concurrent streams of high-quality video.
This server comes with 16 GB of RAM and 2 x 2 TB SATA hard drives (or 2 x 240 GB SSD). While this should be plenty for new streamers, you can customize the configuration and upgrade the RAM or storage to meet your needs.
2. True-Unmetered Dual Xeon E5-2650
When you outgrow the E3-1246v3, we recommend another best-selling CPU that performs exceptionally well for content streaming.
This Dual-CPU can be configured with a True-Unmetered port ranging from 1 Gbps all the way up to 20 Gbps of dedicated full-duplex premium bandwidth. It supports many concurrent streams and can handle CPU-intensive tasks with ease thanks to its 64 GB of RAM.
As with all of our servers, you can customize the Dual Xeon E5-2650 to match your needs.
3. True-Unmetered Ryzen 3900X
The benchmarks for the AMD Ryzen 3900X processor clock in at 32,867 points. Compare that to the Dual Xeon E5-2650, which clocks in at 12,762, and you can see how this CPU can handle pretty well anything you throw at it.
This beast of a CPU can handle video streaming and encoding without breaking a sweat. Most streamers pair this CPU with a True-Unmetered bandwidth port of 3 Gbps or more.
Pro-Tip: When you order a Maple-Hosting True-Unmetered dedicated server with a port larger than 2 Gbps, you get a free burstable port upgrade to 10 Gbps. That means small bursts over your purchased port won't cause video buffering and slower performance for your viewers (as long as your 95th percentile bandwidth usage stays under your purchased port).
All of Maple-Hosting's servers are highly customizable and include the option to upgrade or downgrade your bandwidth port at any time. This lets you start small and upgrade as your audience grows.
Managed Servers vs. Unmanaged Servers
A web server is a specialized type of computer but it's still a computer. It can run into problems like any other PC and needs ongoing maintenance to keep it up to date and running smoothly.
Where a server differs from a typical PC is the complexity of sorting out these types of problems. You need some specialized knowledge to properly maintain a server or you could run into issues with reliability or even security risks.
With an unmanaged server, you're responsible for all those things. The hosting company provides a physical home for the computer and will get it set up for you when you order a server but from that point on, it's up to you to handle any problems and install any software updates and security patches.
With a managed server, the hosting company takes care of a lot of the support and maintenance so you don't have to worry about it. Maple-Hosting offers fully-managed support options for any dedicated server that has the cPanel/WHM control panel.
Maple-Hosting Is Here to Help You Find the Perfect Server
With the combination of Maple-Hosting's high-performance streaming dedicated servers and friendly, helpful 24/7/365 support team, you'll be able to give your viewers the best possible streaming experience.
And our 100% uptime guarantee means you won't have to worry about whether or not your server is working properly so you can focus on your content. Use our server recommendation wizard to find the best server for your needs or get in touch and we'll help you get started.
Award-Winning Dedicated Servers
Please select the dedicated server type that best matches your needs:
NETHERLANDS DEDICATED SERVERS All of our dedicated servers are hosted in The Netherlands. Build the right dedicated server for your needs.


View All Servers ›
UNMETERED DEDICATED SERVERS Designed for high-bandwidth use cases. Experience truly unmetered premium bandwidth from 100 Mbps to 20+ Gbps.


View Unmetered Servers ›
MANAGED DEDICATED SERVERS Free up your time and focus on your business. Our 24x7 managed support will set up, secure, and optimize your server.


View Managed Servers ›